Inclusive Biofilms workshop celebrates patient-focussed researcher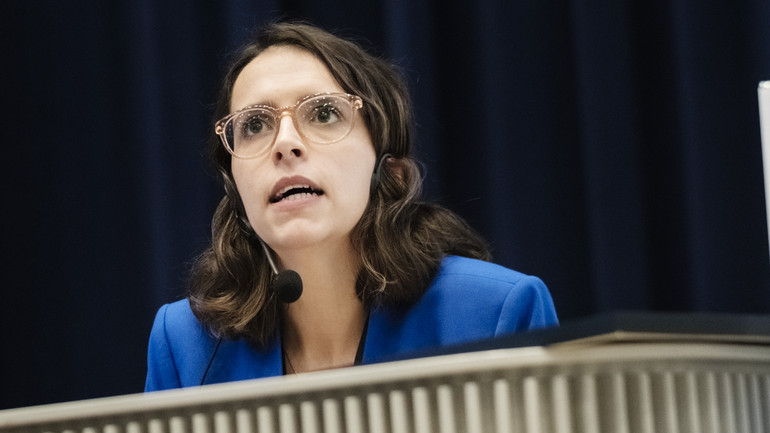 The annual Biofilms Research Center for Biointerfaces workshop, organised in collaboration with the Swedish Chemical Society, not only saw the coming together of academic and industry partners, but also Malmö University researcher Sabrina Valetti receiving a prestigious award with a 50, 000 SEK prize.
The workshop programme had a theme of inclusion and focussed on cutting-edge materials chemistry which emphasised the scientific diversity of the field. It included a series of lectures and a poster session for PhD candidates to showcase their research.
During the workshop, Valetti was awarded the Nouryon Nordic Prize in Surface and Colloid Science. The prize is for a young researcher that is active in the Nordic countries in the field of surface and colloid science, who has shown independent research at a high international level.
Her research involved the refurbishment of existing antibiotics with the help of advanced pharmaceutical excipients to enhance their therapeutic efficacy and offer a fast solution to the worldwide spread of antibiotic-resistant microorganisms.
"My research is quite applied; I really want to see where there is a clinical need and try to develop a new medicine that might fit that need. That is the way I want to be, I am a pharmacist by background and I work in the interface between academia and industry — my personal development goal is to create an innovative medicine for the benefit of patients and society as a whole," said Valetti.
Her studies offer a route to dramatically speed up the development time for new therapeutic formulations in the current 'post antibiotic era'.
"Many of the antibiotic drugs that were discovered in the 70s for the treatment of tuberculosis and other maladies were dropped. Because the drugs are used for short-term treatment, you don't get much money from them. Now there are more and more resistant bacteria and we need a fast solution to refurbish and reformulate clinically proved antibiotics," added Valetti.
The prize, which has been awarded since 1985, consists of 50, 000 SEK in travel grants and a diploma.
"I am honoured to be getting this award, especially as there are so many highly respected scientists who have received it before me – I am delighted to be among that list. For personal motivation, it is also good; a lot of the time researchers carry out most of their work without being recognised, but finally one day acknowledgement will arrive – keep going!"
Valetti is undecided what she will use the money for, but is considering using it to help showcase the work done at Biofilms at international conferences.
The studies she presented at the workshop, where Valetti also spoke, were part of her work carried out for Nanologica AB.
Text by: Adrian Grist