Two professors recognised for their sustainable business ideas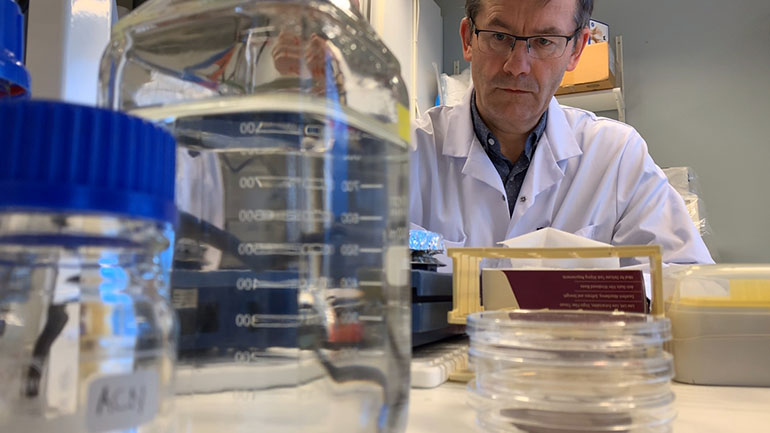 A recently compiled list of the top 100 Swedish research projects, which demonstrate sustainable business potential, includes the work of two Malmö University researchers who both made it into the top 50.
The selections were made by The Royal Swedish Academy of Engineering Sciences (IVA), and the research projects will be presented at the upcoming IVA's R2B Summit.
Tautgirdas Ruzgas and Börje Sellergren, both professors at Biofilms Research Center for Biointerfaces, will attend the summit where they will have the opportunity to discuss potential collaborations with industry partners — both involve smart products in life science.
"The best thing for us is if there are interested partners in the industry, or investors who want to develop the product together with us. I expect a determined dialogue, not just pleasant questions — it is not often you get this opportunity for such a dialogue," said Ruzgas, who is researching a wireless bacterial sensor that can, for example, be used in catheters.
The bacterial sensor detects infections at an early stage to avoid serious infections; the product reduces both pain experienced by the patient, health care costs and antibiotic use.
"We have the knowledge and research but need resources to make a prototype. In addition, we would like to cooperate with the large companies that know the industry. We are making a commercial product and it would be of great value to get its market potential evaluated," said Ruzgas.
IVA called for research on sustainability in technical and economic sciences that can create value for companies or societies in the form of knowledge, processes, products and business development. Börje Sellergren, who has worked extensively abroad, sees this as an opportunity to create a network in Sweden.
"I will explain our platform technology and how it can be exploited for sustainable health care solutions. This is an opportunity for us to reach out to a broad audience and perhaps attract financial support and contacts with pharma or diagnostic companies and end users — this is difficult to do from your office desk," said Sellergren, who researches synthetic antibodies.
It is hoped that synthetic antibodies will be able to detect disease biomarkers that biological antibodies miss. They are cheap and stable and can be developed within a short timeframe as we face new challenges, such as the looming coronavirus situation. In addition to diagnosing diseases, they can also be used therapeutically, for example, to remove harmful substances from the body or to find and kill cancer cells.
Text by: Hanna Svederborn