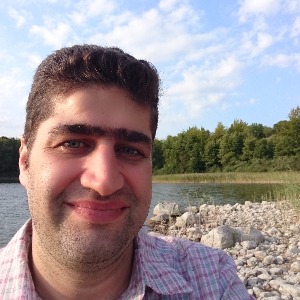 Presentation
Currently, Majid is a PhD candidate in the Computer Science and Media Technology department at Malmö University. Majid is a member of the Internet of Things and People research center (IoTaP) from March 2018. He is currently working on the "Cloud vs. Edge Computing for IoT Applications".
This project that is supervised by Prof. Paul Davidsson and co-supervised by Dr. Romina Spalazzese focus on the effect of edge, fog and cloud computing on designing and deploying IoT applications. In summary, in spite of the powerful achievement and increasing usage of Cloud computing, there are still challenges especially in developing IoT systems which have requirements concerning e.g. latency, energy consumption, and privacy. Edge computing can address those problems by performing computations directly in devices at the edge of the network such as gateways, routers, switches and base stations or the IoT connected devices. In this regard, we may use a hybrid solution in many services to perform some processing and storage at the edge or in the could servers. Thus, the plan is to work on:
*Support system designer for when cloud, edge or hybrid IoT solutions should be used.
*New architectures and methods for edge-based and hybrid IoT solutions.
Majid research interests lie broadly in the area of Distributed Systems, Edge Computing, and IoT related Problems particularly in Vehicular Networks, Wireless Sensor Networks.
He obtained his M.Sc. degree in Information Technology (Computer Networks) from Sharif University of Technology, and his B.Sc. in Information Technology in Isfahan University both in Iran. He also has professional experience of more than six years working in research and industrial projects regarding Vehicular Networks and Optical Transport Networks.