Student's Art Gallery #32
Collage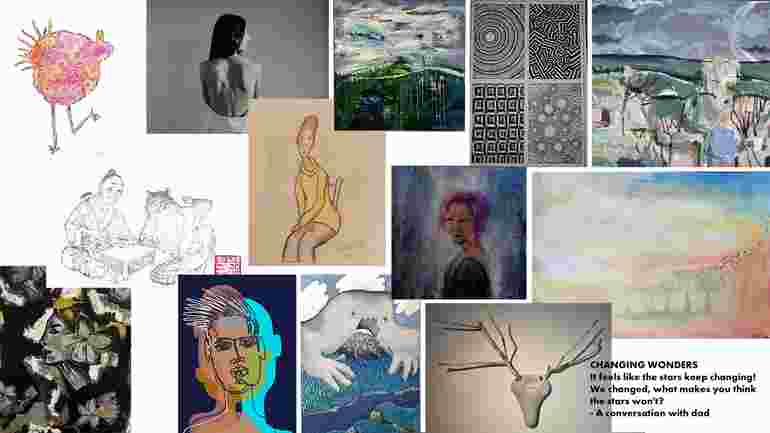 Exhibitors
Elena Ilicheva
Student at the School of Arts and Communication (K3)
E-mail: ilichevaelena677@gmail.com
Ink and pastel graphics with collage elements
Jenny Levin
Student vid fakulteten för lärande och samhälle (ämneslärarutbildningen)
E-post: jenny_levin@hotmail.com
Mina verk är utvalda teckningar från året 2022. Nya färger och figurer har letat sig in i min fantasi. Motiven visar saker jag tänkt på, ting jag oroat mig över och vilka tankar jag har sökt tröst i under året som gått. Det handlar om sorg, drömmar och kärlek till naturen.
Georgina Laskari
Student at the Faculty of Education and Society
E-mail: georgina.lask@gmail.com
The epitome of a Woman - the beauty that comes from within, portrayed in black and white.
Rita Bezjian
Studerar naturvetenskapligt basår vid Fakulteten för teknik & samhälle
E-post: ritabezjianedu@gmail.com
Deltar i utställningen med fem dikter, ett exempel:
Changing wonders
It feels like the stars keep changing!
We changed, what makes you think the stars won't?
- A conversation with dad
Josephine Kotton
Student vid Fakulteten för hälsa & samhälle
E-post: jjk.sweden@hotmail.com
Med min konst vill jag visa världen att detta är mitt sätt att utrycka mig. Konst är min passion och det är det som gör mig lycklig. Här finner jag ro att vara mig själv, att låta fantasin ta över. För det vackra är att fantasin har inga gränser. Jag låter kreativiteten ta över och ge mig avkoppling från samhällets problem :)
India Wittmershaus
Studying International Relations at the Faculty of Culture & Society
E-mail: euv202503@europa-uni.de
Free illusionary patterns
Johan Deltner
Doktorandstudent vid Fakulteten för lärande och samhälle (BUS)
E-post: johan.deltner@mau.se
I mina verk så hoppas jag kunna utforska mötet mellan betraktaren och omgivningen och bjuda in till reflektioner kring hur vi tillsammans skapar landskapen runt omkring oss.
Måns Samuelsson
Studerar på socionomprogrammet vid Fakulteten för hälsa & samhälle
E-post: mjk.samuelsson@gmail.gom
Ett gestaltande av något bortom den fysiska verkligheten med mycket färg och struktur. Mina verk befinner sig mellan harmoni och kaos. Om det är stiltje eller vardag som finns mellan harmoni och kaos är upp till betraktaren. En intetsägande verklighetsflykt gestaltat i färg och struktur beskriver drömmen och längtan till något odefinierat, måhända ett egendesignat luftslott.
Louise Hagberg
Studerar produktdesign vid Fakulteten för kultur & samhälle
E-post: louise.k.hagberg@gmail.com
En trofé som bättre stämmer överens med vår tid. Som en kärleksförklaring till skogen och dess djur. Love you deer.
Hanna Semby
Studerar internationella relationer vid Fakulteten för kultur & samhälle
E-mail: hanna.semby@gmail.com
Min två verk är ganska olika, men något som de har gemensamt är mycket färg. Detta är ett återkommande tema i min konst då jag gillar att experimentera med olika färger och former för att få fram djup och känsla. Konst för mig är som en hemlig värld där tid och rum försvinner. Allt som är framför mig är färger och former, och genom många tester så dyker det upp människa på duken. Det är ett sätt att ta paus i livet som annars är ganska hektiskt och svårt att förstå.
Louis Diep
Studerar produktdesign vid Fakulteten för kultur & samhälle
E-post: lou1s_0@hotmail.com
Påträngda tankar och bisarra fantasier som har överförts på papper.
Sheiyma Zekaria
Studying Leadership for Sustainability (master's program) at the Faculty of Culture and Society
E-mail: zsheiyma@gmail.com
For me, art is more than colors on canvas.
Nora Naeve
Studying at the School of Arts and Communication (K3) at the Faculty of Culture and Society
E-mail: nodono@freenet.de
A Day In Autumn
Moa Lindh
Studerar produktdesign åk 1 på K3 vid Fakulteten för kultur & samhälle
E-post: moalindh@hotmail.com
Enligt mig ska man bli glad utav konst och det ska vara kul att skapa! Jag målar "fantasifåglar" i akvarell och finelinerpennor. När jag målar låter jag färgen styra formen på fågeln och med finelinerpennorna får fåglarna olika uttryck, vilket skapar reaktioner hos betraktaren. Mina verk sprider glädje och lekfullhet med en blandning av färg och form.
Sebastian Rosspigliosi Rodriguez
Studerar serieteckning och visuellt berättande vid Fakulteten för kultur & samhälle
E-post: srrzm17@gmail.com
Färgglada konstverk med användning av symbolik, det ockulta, färger och digitala instrument för att förmedla ett narrativ utan ord och uppenbara tecken. Dessa tre verk dras ifrån sina respektive större narrativ för att visa en varierad förmåga som konstnär via porträtt, symbolik och symmetri. De existerar som sagt ursprungligen i sina egna mappar med fler verk närmare relaterade till dem (PHOENIX är del av en serie verk t.ex.).
Page modified: 2023-06-01