Student Art Gallery #27
Collage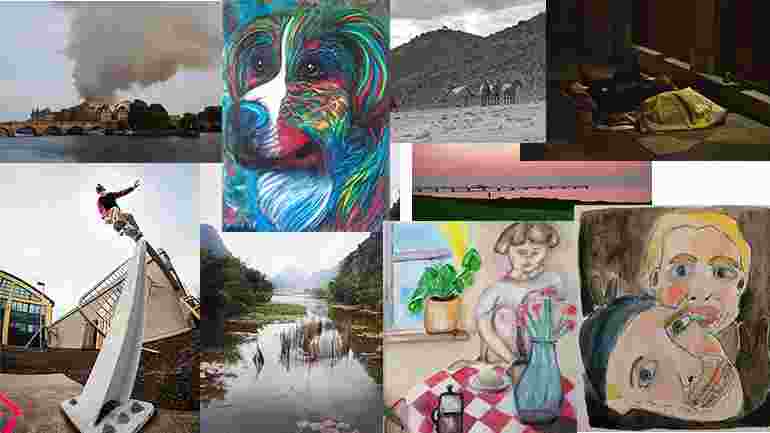 Exhibitors
Ruut Karppinen
Student at Criminology, The Faculty of Health and Society
E-mail: ruutkarppinen@windowslive.com
About my works of art: I would say my art is childish and simple. I always paint only faces and I don't know why. I have tried to paint other things, but nothing else is as interesting as the faces of people. Maybe that is because I am fascinated by lights, shadows, colors and emotions.
Jacob Hansson
Student på programmet Visuell kommunikation
E-post: jacob.hansson.foto@gmail.com
Om mina verk: Dessa verk speglar hur skateboard dokumenteras av en skateboard-åkares öga. Bilderna fotograferades år 2019 vilket var mitt tionde år på brädan. På fotografierna ser vi vänner som jag har lärt känna genom mitt intresse för skateboard. Inom denna genre ska åskådaren med endast en bildruta förstå vad för typ av miljö tricket utspelar sig i samt vad som har hänt innan och efter tricket på bilden. Den häftigaste delen av tricket ska även fångas av fotografen där en millisekunds skillnad ger ett helt annat resultat.
Richard Backman
Student at the Faculty of Culture and Society
E-mail: Richi.backman@gmail.com
About my works of art:

Silhouettes in the sunset
At the end of your day, there is time to reflect
remember, process, and if necessary, forget.
One journey has ended, but the lesson remains.
Never again shall I be restricted by chains.
Chains of self-doubt, toxic relationships and stress
Tomorrow will be all about me, no more, no less.
A series of analogue pictures from Sweden and Finland from 2018-2019
Nathalie Rosenquist
Student på programmet Arkitektur, visualisering & kommunikation
E-post: rosenquistnathalie@gmail.com
Om mina verk: Mina verk är en liten samling från olika platser runt om i sydostasien & australien. Fotografierna föreställer olika djur och landskap som jag stötte på under min resa. Några in i den djupaste djungeln, andra i förbifarten under en promenad. Alla bilderna går under kategorin: GRÖNT - som även är det jag valt att kalla min lilla samling. För mig är det viktigt att värna om djur, natur och miljö, och verkligen uppskatta den vackra jord vi omges av. Vilket är det budskap jag vill förmedla vidare, med hjälp av dessa bilder.
Ellen Sofia Sahlberg
Student på programmet Arkitektur, visualisering & kommunikation
E-post: ellensofiasahlberg@live.se
Om mina verk: Rumslighet, kroppar och stilleben. Verken föreställer vardagsföremål, personer i olika rum och i vardagssituationer. Mina verk är rätt statiska och utan rörelse, samtidigt som de har en del liv i färg och penseldrag. Det är klassiska stilleben, fruktskålar, vaser och flaskor som jag målat hemma i min lägenhet; den blåa 80-talsstolen står i mitt vardagsrum, och min mamma sa en gång "blåa pinnstolar var superpoppis på 80-talet! Jag minns så väl när jag köpte dom på 90-talet!"
Nikos Vrantsis
Student at the program Urban Studies
E-mail: nikvrantsis@gmail.com
Site: Selectedbytraitors.gr
Instagram: #selectedbytraitors
About my works of art: A photo-textual reflection on boundaries and orientation when the centre is not there.
Juliette Gerbais
Student at the Faculty of Culture and Society, GPS (IMER)
E-mail: gerbaisjuliette@aol.com
About my works of art: This series of photographs try to capture both the beauty and uniqueness of rural Kenya.
Michelle Lundberg
Student vid Biomedicinska analytikerprogrammet
E-post: lundberg90.ml@gmail.com
Om mina verk: Drömlika, spirituella porträtt med färgstark karaktär. Jag vill påminna om att ha ett öppet sinne och tänka utanför boxen och jag hoppas inspirera till detta med min konst.
Nina Kolarzik
Student at the Faculty of Culture & Society
E-mail: nina.kolarzik@me.com
About my works of art: I like to take photos to keep a memory on the places I go to, the people I meet, the experiences I make. These photos are a selection of memories from 2019. During my exchange semester, I used my time for several travels, not only in my exchange country. Looking back, it showed me how much you can experience in half a year, how much life happens in that time. 1 semester, 6 months, 10 countries (counting the UK not as united), 10 photos. After that, I returned to Malmö.
Page modified: 2022-05-31