Student Art Gallery #26
Collage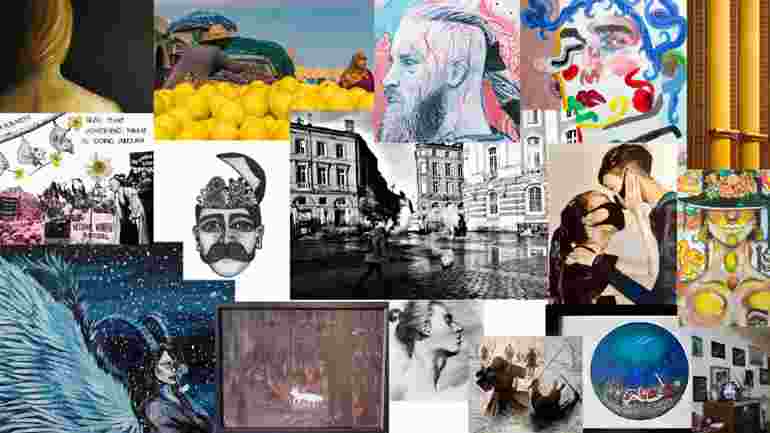 Exhibitors
Adrienn Bodor
Student at faculty of Culture and Society
E-mail: bodor.adrienn1@gmail.com
About my works of art: My artworks are oil paintings that I made for fun.
Camilla Rudenstig
Personal på Facility Service, Lokalbokningen
E-post: camilla.rudenstig@mau.se
Om mina verk: Stilrena och rena sträck med kontraster. Inspireras av "tattoo art" och använder mig av något som kallas för "dotwork" för att få ett djup och en visuell effekt. Jag använder alltid tusch och har av någon anledning aldrig fastnat för färg.
Chang Cai
Student at the Faculty of Culture and Society
E-mail: cai.chang1120@gmail.com
About my works of art: GROWER
The inspiration of this illustration derives from the botanic natural form and rocaille style.
The picture explores the balance between intense and pastel colours, and scrolling curves use to depict reciprocal beauty between human and nature.
Dan Gheorghita
Student at the Faculty of Culture and Society
E-mail: gheorghitadan@hotmail.com
About my works of art: In my photos I look to portray that which is not easily seen by the raw ordinary perception, however, the essence of every moment is still there. Through photography I try to communicate a deep message with the Seer and arise in him/her emotions which are hidden inside, awaiting for a call.
The Seer, In communion with the piece of art - which triggers that expansion in consciousness - produce together a fine essence which work like chemistry, a result which can only happen when both the photo and the eyes meet. Everyone is a different "chemical" in this way, and so the same photo can produce a miriad of results. My final aim would be to bring the Seer out of its limitations in perspective, and invite him/her to a stretching of the mind and growth. My photography reflects Humanity in its various forms, but the fundamental aspect would be the inner journey of the Self.
Frida Otterbeck
Student at the Faculty of Culture and Society
E-mail: frida.otterbeck@gmail.com
About my works of art: Calm colours and scenery that are trying to capture the invisible magic that exist in nature.
Julia Normark
Student på programmet Visuell Kommunikation, Kultur och samhälle
E-post: julianormark@gmail.com
Om mina verk: Jag försöker hitta abstrakta former ur min materiella omgivning för att fånga skönhet som en kanske annars inte hade lagt märke till. Bilderna uttrycker en kärlek för färg och symmetri och är menade att skapa en harmonisk känsla hos tittaren. Jag tror på att det finns något vackert i allt om en bara tittar på det på rätt sätt - eller från rätt vinkel.
Lei Shen
Personal på Lärande och samhälle
E-post: lei.shen@mau.se
Om mina verk: Glory to HK, 愿荣光归香港。
Matylda Jonas-Kowalik
Student at International Migration and Ethnic Relations (MA programme)
E-mail: m.jonas.kowalik@gmail.com
About my works of art: I work with the technique of collage to create thought-provoking pictures from photographs, newspaper scraps and flowers. I take my inspiration from social and political situation seen though an intersectional feminist lens.
Mayan Alomari
Student på Tandläkarprogrammet
E-post: mayan.maath@gmail.com
Om mina verk: Hjärtat ser när ögonen inte kan.
Merle Emrich
Student at Global Political Studies, GPS (International Relations)
E-mail: me.merle.emrich@gmail.com
About my works of art: This series of photographs was taken during Gilets Jaunes protests in Toulouse in between January and April 2019. The photos – arranged in pairs of coloured and black-and-white images portray the contrasts present during these protests: violence and solidarity, confrontation and humanity, anger and empowerment.
Michelle Lundberg
Student på Biomedicinsk analytiker programmet, Hälsa och samhälle
E-post: lundberg90.ml@gmail.com
Om mina verk: Akrylmålningar med inspiration från asiatisk kultur.
Lizzie
Student på Kultur och Samhälle, Medie- och kommunikationsvetenskap
E-post: lizziearvid@gmail.com
Om mina verk: Det är samling dikter och en tavla. Jag använder små och vardagliga ord för att beskriva stora känslor. Dikterna är alla starka och tangerar samma ämne och är olika till form. Varje dikt har var sin sorts blomma som är pressade och svagt solblekta. Blommorna symboliserar liv som existerat, som fastnat halvvägs till slutet, är ännu vackra och svåra att släppa. Precis som de känslor och personerna i dikterna har. Blommorna och dikterna är minnen om en gången tid, som var eller aldrig var vacker. Förutom blommorna finns en tavla som ger färg och bidrar främst till dikten om vågor.
Sara Vilhelmsson
Student på förskollärarprogrammet, Lärande och samhälle
E-post: sarawilhelmsson95@gmail.com
Om mina verk: Denna bildserie kallar jag för "Space" och handlar om att finna utrymme till sig själv. Att förstå hur jag:et fungerar i en värld där det känns som att alla andra lever på Jorden medan du själv svävar på Mars.
Hur släpper jag in någon innanför min rymddräkt? Kan jag ens ta klivet utanför den? Med skalet på kan jag andas men utan det så faller jag.
Ändå finns hoppet att hitta någon som tillhör samma galax och en längtan efter att inte vara ensam.
Thania Persson
Student på Kriminologi, grundkurs och IMER III
E-post: Thanisan92@hotmail.com
Om mina verk: Mina verk är mestadels porträtt av människor och djur men även lite fantasy- och film/musik teman då jag får mycket inspiration av just musiken. Jag använder mig mest av blyerts, kol, Faber Castell färgpennor och ibland Akryl.
Ville Hulling
Student på Visuell kommunikation, Kultur och samhälle
E-post: ville.hulling@gmail.com
Om mina verk: De tre kolteckningarna visar hur jag tränade mig själv i en, för mig, ny teknik och jobbade mig upp till att göra ett självporträtt vilket jag sett som en stor utmaning för mig. Oljemålningen är min utforskning av olika inspirationskällor och hur de kan komma samman för att göra något som tilltalar mig starkt.
Nikolaos Vrantsis
Student at MA Urban Studies
E-mail: nikvrantsis@gmail.com
About my works of art: I would describe my works of art like this: Texts and pictures illuminating obscure urban processes.
Page modified: 2022-05-31