Student's Art Gallery #33
Collage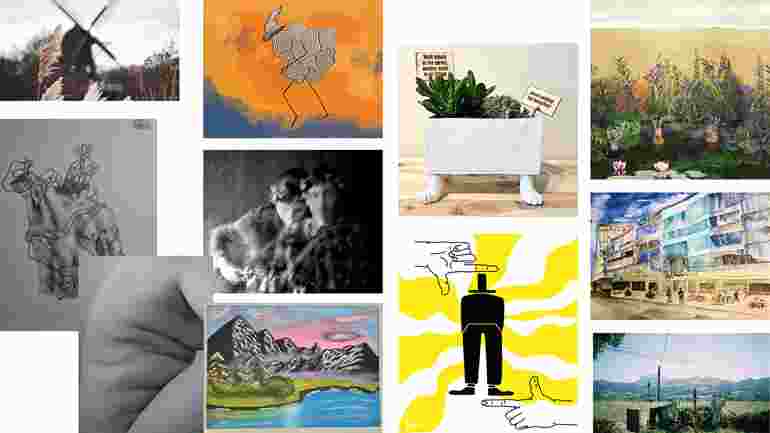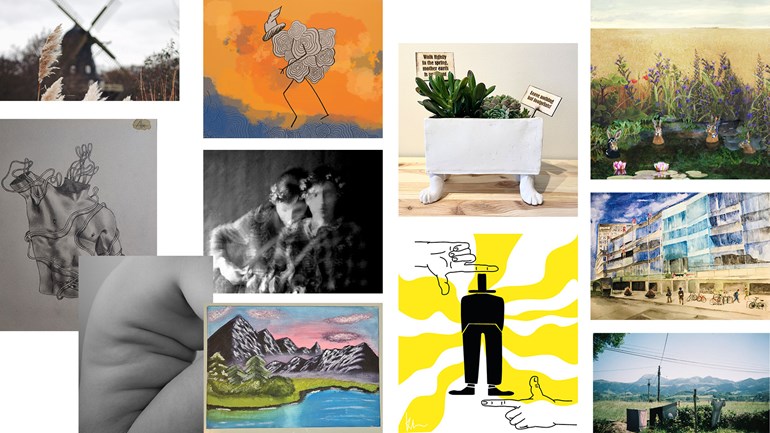 Exhibitors
Louise Hagberg
Studerar produktdesign vid Fakulteten för kultur & samhälle.
e-post: louise.k.hagberg@gmail.com
Naturen demonstrerar. En budbärare tassar fram och påminner oss om vad som är viktigt.
Lisa-Marie Riemer
Student at the School of Arts and Communication (K3).
e-mail: lisa-marie-riemer@web.de
My pictures are shot on 35mm and 24mm film. I shoot in black and white as well as in color with two different cameras (reflex and point-and-shoot). I play with different motives, lenses (for the reflex), and films as well as testing the development process in the lab currently.
Hilda Kronberg
Studerar grafisk design vid Institutionen för konst, kultur och kommunikation (K3).
e-post: hilda.kronberg@gmail.com
De tre verk jag valt att ställa ut började med "The Wanderer" (längst till höger) som ett test av nya tuschpennor. Denne fick sedan mer liv då jag valde att färglägga den i Photoshop. Jag har sen dess skapat två till verk på samma vis, "The Path" (mitten) och "The End" (längst till vänster). I en period har jag varit väldigt dragen till kombinationen av blått och orange vilken jag utforskat på olika sätt. Dessa verk handlar för mig om resandet, döden och pånyttfödelse.
Alexandra Cucu
Student at the Faculty of Culture and Society.
e-mail: alexandra.cucu@protonmail.com
Beatrice Toreborg
Studerar visuell kommunikation vid Institutionen för konst, kultur och kommunikation (K3).
e-post: beatricetoreborg@gmail.com
Flowers never get boring to draw, every single one is unique.
Klara Gustafsson
Studerar produktdesign år 1 vid Institutionen för konst, kultur och kommunikation (K3).
e-post: klara.rannavag@gmail.com
Det bästa med grafisk design är att man kan skapa så mycket olika saker med ett verktyg. Jag skulle beskriva mina verk som "kul". Kul att titta på, roliga att skapa.
Alexandra Ifrin
Student at the Faculty of Culture and Society.
e-mail: alexandra.1205.ifrim@gmail.com
Life sometimes can seem black and white or a monochromatic mix of those. For me finding a balance is finding my connection with nature and all that is around us. A city can be black and white, but nature will never disappoint in bringing color to our realities.
Georgina Laskari
Student at the Faculty of Education and Society.
e-mail: georgina.lask@gmail.com
IG: @la_georgina_ph
In a world where most people strive for perfection in a photo, choosing their best angle and posture, this is a photo [from my collection: AGALMA (=statue in Greek)] that captures a body, the way it moves, with all its curves and lines, to show the beauty we have forgotten, that some might call ''imperfection''. 
Emanuel Palma
e-mail: emanuel2790@gmail.com
I have simply called the image "Wind" and the photo was taken in Slottsträdgården, as you might infer from the windmill in the background.
Lei Shen
Arbetar som ekonom vid Gemensamt verksamhetsstöd.
e-post: lei.shen@mau.se
Vissa platser och vissa ögonblick vill jag minnas i akvarellkonstvärlden. 
Stella Lövgren
Studerar vid Institutionen för konst, kultur och kommunikation (K3).
e-post: stellalovgren@gmail.com
Mina bilder är mörka och surrealistiska. Dubbelexponeringar och prismor är något jag ofta använder. Polaroid och analog film utforskar jag också. Det händer att jag utvecklar originalen digitalt och då väver jag ibland in även illustration.
Martine Castoriano
Jag arbetar just nu som studentmedarbetare på Orkanens bibliotek. Jag studerar sista terminen på masterprogrammet ABM, Biblioteks och informationsvetenskap. Jag har arbetat som fotograf samt kulturreporter på SVT Malmö. Mina bilder har bl.a. visats på Moving Art Project, Lunds konsthall, Form och Design Center, Övedskloster och Art Nordic.
e-post: martine@castoriano.com
I mina bilder finns det oftast påklädda djur i olika situationer. De kan klä upp sig och stoltsera lite men kan också visa fram sin sårbarhet. Dessa djurs mänskliga beteende och relationer kan låta oss se oss själva och vår samtid, oftast på ett humoristiskt sätt. Bilderna växer fram organiskt. Det kan börja med något jag har sett, en person eller en bild i en tidning. Ingångarna är många. Förväntningar, drömmar och verklighet blandas och ger upphov till olika personligheter och berättelser.
Alla bilder är glicléetryck på 210g Canson akvarellpapper och görs endast i en liten begränsad upplaga.
Page modified: 2023-06-01