Computer Science: Applied Data Science, Master's Program (Two-Year)
During this programme, you will get a comprehensive understanding of the fundamental aspects of data modelling, computational techniques and statistical analysis.
Radu-Casian Mihailescu, Programme Coordinator
We are living through a time of immense digital transformation. In order to benefit society, science and businesses, we need to develop the right tools to extract the full value from the ever-increasing growth of digital data. This interdisciplinary two-year master's programme will provide you with understanding of the state-of-the-art methods and algorithms of data science through hands-on experience with the latest tools and systems in the industry. After graduation, you will be qualified to work in a range of positions in data-centred projects as well as pursue PhD studies in data science.
Data Science is an emerging and multidisciplinary field that requires knowledge and skills in subjects such as computer science, mathematics and communication technologies. During this programme, you will get a comprehensive understanding of the fundamental aspects of data modelling, computational techniques and statistical analysis. You will apply these skills to real-world problems and build a portfolio of projects demonstrating solutions to current business and societal challenges. You will have the opportunity to conduct original and innovative research, working with industry partners and academia during the capstone project course and thesis work.
The programme is built around the international research environments at the Department of Computer Science and Media Technology. The teaching staff includes experts in artificial intelligence, data processing and analysis, software development for big data and cloud architectures, modern software methodologies, and data visualisation.
Graduates will enter the workplace with solid skills in managing, modelling, visualising and processing big data in order to provide insights to meet the growing needs of a digitised society. After graduating from this programme, you will have developed competencies that are applicable across various sectors and application domains of data science such as computer science, technology, logistics, financial services, internet of things, transport, business analytics, healthcare, gaming and digital marketing and advertising analytics.
In addition, the programme will prepare you for postgraduate education in computational-based science and technology — especially focussed on data science — but also research and development work in related areas.
Courses within the programme
Entry requirements and selection
Here you can find the entry requirements, as well as how the available study places are distributed between applicants in the selection.
For general admissions enquiries please contact the Admissions Office: admissions@mau.se
Entry requirements
Bachelor's degree or master's degree (at least 180 credits) in computer science or related topics such as mathematics, informatics, telecommunications, electrical engineering, or physics.
At least 15 credits in programming.
At least 7.5 credits in mathematics.
The equivalent of English 6 at Swedish upper secondary level.
Selection
University credits completed 100%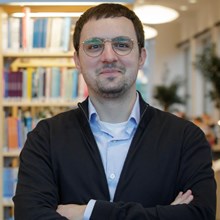 Demand for data scientists is at an all-time high
Radu-Casian Mihailescu is Programme Coordinator for the Computer Science: Applied Data Science Master's programme.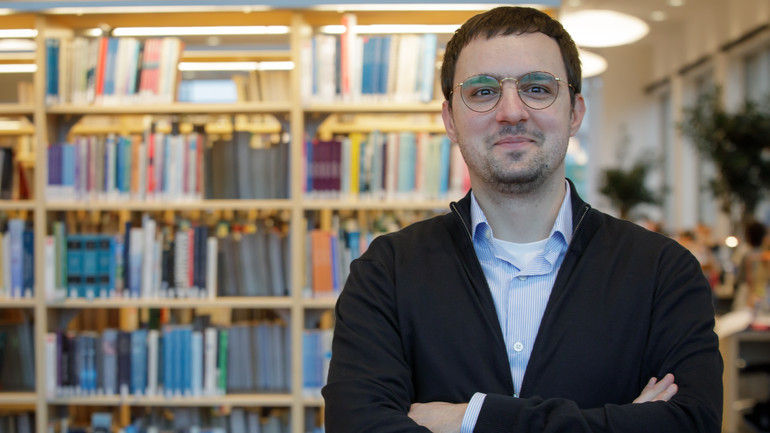 Demand for data scientists is at an all-time high
Radu-Casian Mihailescu is Programme Coordinator for the Computer Science: Applied Data Science Master's programme.
Who should apply to this master's programme?
The Applied Data Science Master's programme at Malmo University is designed for graduates and professionals aiming to become an expert in the fast-growing field of Data Science, which is arguably the most strategic field for today's emerging digital society. Data has surpassed oil as the world's most valuable asset, and the effective use of data represents the foundation for today's fastest-growing companies such as Google, Facebook, Uber or Tesla. As ever more data is being collected every day, data is not sufficient in itself – we need highly skilled professionals who can derive actionable insights from it. This will allow organisations to benefit and unlock new business opportunities. Thus, the program is specifically designed for those who are aiming to develop an in-depth understanding of the methods and algorithms of data science and acquire expertise that sets them apart on the job market.
What makes the programme unique?
The programme is characterised by a strong emphasis on practice and research. The underlying principle for this programme can be summarized in the words of the Nobel laureate R. Feynman: "what you cannot create, you do not understand". We've created the Applied Data Science Master's programme in response to the growing need from the industry to develop a new class of professionals skilled in both computing and data analytics. To this end, the curriculum prepares graduates to address data-intensive problems from a variety of fields, think critically about data, and drive decision making processes in the public and private sectors. This is achieved through the study of relevant topics such as big data and cloud computing, artificial intelligence and machine learning, statistical analysis and data visualisation.
In what ways do the knowledge and skills taught in the programme prepare students for the job market?
Demand for data scientists is at an all-time high and data analytics is now fundamental to business and data-driven value-creation. Throughout this programme, students have the opportunity to create their own data analysis projects, enabling them to apply advanced methods to investigate real-world questions. Data and factualness beats opinion every time – so it is key to build skills such as determining how to extract relevant information from massive amounts of data or understanding how computers can learn from experience to make intelligent decisions. By providing an industry-relevant curriculum, we equip students with a set of highly sought-after technical skills meant to give them a competitive edge on the job market. At the same time, the coursework is conceived to draw attention towards the ethical responsibilities of a data scientist. We provide students with the framework to analyse these concerns and the means for using ethical reasoning to suggest improvements to data-driven systems and practices.
Why should students chose to study at Malmö University?
Malmo University is known to provide high quality education and have deep ties with the surrounding tech industry. In fact, our industry advisory council enables us to make sure that we build the data science skills that employers need in today's graduates. Students enrolled at Malmö University will benefit from an international and multi-disciplinary learning environment. Moreover, Malmö is one of Europe's leading cities when it comes to innovation and many of our alumni go on to become successful entrepreneurs. According to Forbes, eight start-up companies are founded every day in Malmö. Meanwhile, the greater Öresund region is one of the most dynamic urban areas in Scandinavia.
How does the programme prepare students for future doctoral studies?
Graduates will be prepared to continue their careers in related doctoral studies or as data science professionals in the industry. In particular, there are synergies with the newly established data-driven systems doctoral school at Malmo University, which provides opportunities for knowledge transfer and further continuation of studies towards a PhD. During the programme, students are encouraged to get involved in ongoing active research at the Faculty of Technology and Society, especially during their project-based courses and thesis work, where they can further develop their research skills. Our aim is to involve students and welcome them to various seminars that guest researchers and researchers at the faculty deliver on a regular basis.