Cookies
We use cookies on this website. Cookies help us deliver the best experience on our website. Read about cookies.
Department of Care Science
Department of
Care Science
The Department of Care Science provides nurse training at bachelor's level and specialist nurse training at master's level, as well as doctoral courses. Malmö University's nursing exam, as the only such course in the country, maintains a very high standard, as evidenced by the Swedish Higher Education Authority
Education at Care Science
The Department of Care Science provides nurse training at bachelor's level and specialist nurse training at master's level, as well as doctoral courses. Malmö University's nursing exam, as the only such course in the country, maintains a very high standar, as evidenced by the latest assessment by the Swedish Higher Education Authority in 2014.
EU-funded project: Digital education in nursing-DEN
The overall purpose of the project "Digital education in nursing" project (DEN) is to modernize the existing curriculum for nursing students by developing digital modules regarding lectures/examinations into new forms of education.
Contact and responsible at Malmö University
Financers
EU-Erasmus+
Project members
Collaborators
Goce Delcev University, Stip, Norr Macedonia : Gordana Panova and Zisovska, Elizabeta;
University of Novi Sad, Novi Sad, Serbia,: Dragana Milutinovic, Dragana Simin, Sanja Tomic and Vladimir Dolinaj ;
College of Nursing in Celje, Celje, Slovenia: Mojca Poredos, Bojana Filej, Katja Esih, Tamara Stemberger Kolnik and Jernea Mreza;
University of Applied Health Sciences, Zagreb Croatia: Olja Vori, Vesna Turuk and Boris Ilic.
Time frame
30 juni 2021 – 30 juni 2023
About the project
The overall purpose of the project "Digital education in nursing" project (DEN) is to modernize the existing curriculum for nursing students by developing digital modules regarding lectures/examinations into new forms of education. The project will run for 24 months and the expected results are supposed to have long-term positive effects on nursing education in the EU. The pandemic has been the reason why the traditional academic education in nursing has forced to be transformed into digital forms without the lecturers being given the opportunity to adapt the pedagogy to digital education. The lecturers need support to develop their pedagogical skills from the traditional way to a more digital way in order to maintain the required and necessary high quality in nurse education. The traditional way is not sufficient, or applicable, to meet today's requirements especially not for satisfactory examinations.
A European collaboration
The project consortium consists of five partner organisations representing five EU countries (Croatia, Macedonia, Slovenia, Serbia and Sweden). All partner organizations have a strong tradition in nursing education and have already successfully collaborated in a European (Erasmus +) project. All partners organisations have worked with digital nursing education at a different level during pandemic 2020.
Aim
The primary objectives of our project are to enhance the ability of lecturers at the involved universities, and participating organisations, to provide high-quality education, including digital education • to focus on building teaching capacity to implement, with both blended, and on line, teaching and learning;
to develop digital pedagogical competencies of lecturers, enabling them to deliver high-quality digital education; and to develop and/or use high-quality digital content such as innovative online resources and tools.
to share and exchange experiences, expertise, and resources, and in collaboration, create a digital course of mutual interest
to collaborate regarding digital technology by using different providers and experts in educational technologies and with experiences in relevant pedagogical practice. 
Results
The expected results of the DEN project are the following:
teachers and lecturers will have an increased understanding of digital teaching pedagogic;
to identity, adapt to, and develop the necessary measurements, assessments and actions required for quality enhancement of digital teaching and learning processes;
to train lecturers and other teaching staff for harnessing pedagogical and methodological principles and new modes of teaching and learning to be able to adapt to higher nursing education.
to develop methodology and platforms for broader integration between digital teaching and learning for postgraduate studies in nursing.
Research at the Department of Care Science
The research at the Department of Care Science aims to contribute to equal health and care. Our research environment is characterised by projects that deal with diversity and sustainable changes of importance to the individual, profession, and organisations within the health care sector. Research takes place in close collaboration with the surrounding community.
Research subject
Research subject Care science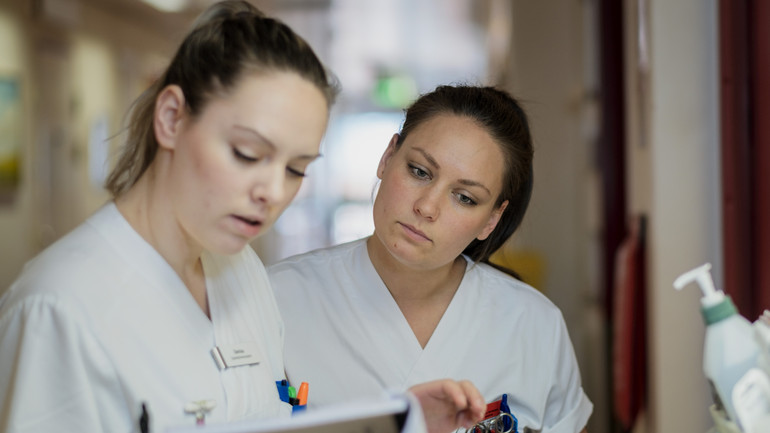 Research subject Care science
Care science research is multidisciplinary and covers all aspects of human life. In addition, it has a focus on the organisation and practice of nursing. At Malmö University, care sciences research is conducted across six areas, all with the aim of contributing to equality in care and health.
 

Researchers, publications and research projects
Doctoral studies 
Most of the research at the Faculty of Health and Society is interdisciplinary, which opens up new and exciting areas of research beyond the subject divisions that have traditionally existed between medicine and social sciences.
Page modified: 2022-06-13