Leadership for Sustainability, Master's Programme (One-Year)
Information film about the programme
https://youtube.com/embed/5kre4lYHZEI?enablejsapi=1&rel=0&showinfo=1&controls=1
This multidisciplinary one-year master's programme provides students with an understanding of organisation and leadership theory in the context of sustainability. Students will acquire a critical understanding of sustainable development and sustainability leadership. Furthermore, they will learn research methods for exploring and analysing sustainable challenges using leadership and organisation theory. This education provides a foundation for those seeking to lead and/or manage sustainable initiatives, in research and practice, that bring about change in the workplace, community and the world.
The master's degree programme is grounded in four core premises:
that sustainability requires new forms of organising, especially when it comes to a project-based organisation involving diverse stakeholders;
that organising and leading sustainability requires new and diverse leading and organising skills, understanding and knowledge for managers and leaders of sustainable projects;
that organising and leading sustainability require a new way of thinking of sustainability within and between organisations. Current research on social entrepreneurship and social innovation can reveal new methods and strategies with regards to this; and
that methodological and methodical knowledge and understanding are needed to enable leaders to make sustainable decisions.
Based on these four premises, the programme bridges the fields of organisation theory, leadership, project management, social innovation and social entrepreneurship, so that new ways of organising and leading sustainability can be created. This will enable students to rethink common perceptions of leadership and organisational development.
In this programme, students are taught to reflect upon organisational and leadership challenges linked to organisational development and sustainability. This programme provides students with knowledge and critical understanding of current research in the fields of leadership and organisation, project management, social entrepreneurship and social innovation in the context of sustainability and sustainable development.
This master's programme is also focused on action and doing via diverse projects and thesis work. This is a way to develop students' professional, conceptual and interpersonal skills so that as future sustainable leaders and social entrepreneurs, they will drive sustainable changes and have the capacity to make informed decisions about organisational and leadership issues in the management of sustainable organisations and projects.
Lectures, seminars, and workshop enable interaction in small and large classroom settings. Group work is used to generate discussions about sustainability, especially while doing case studies. Study visits and guest lectures connect learning with practice. Individual papers, individual studies and thesis work focus on in-depth knowledge and mastery of specific subjects.
This programme lays a solid foundation for those seeking to work as key players in project management and organisational development environments, and where the broader issues of societal development are important. The skills acquired during the programme will be relevant for managers in local, national and international governmental bodies, the private and non-profit sector and for consultancy work.
The entrepreneurial content of the course is designed to stimulate and encourage students to initiate projects, businesses or organisations with the purpose of working towards sustainable development.
Courses within the programme
Autumn 2023 - Semester 1
Spring 2024 - Semester 2
Entry requirements and selection
Here you can find the entry requirements, as well as how the available study places are distributed between applicants in the selection. For general admissions enquiries please contact the Admissions Office: admissions@mau.se
Entry requirements
Bachelor´s degree, consisting of 180 credits. The equivalent of Swedish secondary school English 6.
Selection
Applicants are selected in order according to precedence from submitted three-part supporting document.
Apply with supporting document
Please note that you are recommended to submit a supporting document with your application to this programme. If you fulfil the entry requirements but do not submit the supporting document, you can only be admitted if space allows. Please note that we only accept submissions that use the document below.
To complete your application with the supporting document, follow the steps below:
create an account and apply to the programme via universityadmissions.se/antagning.se
upload your documentation as a pdf on universityadmissions.se/antagning.se or send the document by post. You will need to demonstrate both a bachelor's degree and English proficiency to be considered eligible for the programme. Applicants in their final year, who will receive their diploma before the programme starts, can also apply but must follow specific instructions.
the supporting document must be uploaded to universityadmissions.se/antagning.se by the deadline. 
For students applying in the first application round (international admission round, 17 October- 16 January), the supporting document must be uploaded to universityadmissions.se by February 1. 
For students applying in the second admission round, (national admission round, 15 March- 17 April), the supporting document must be uploaded to antagning.se/universityadmissions.se by 17 April.
Download the supporting document here
Note!
Please note that supporting documents submitted after this date will not be accepted. 
Working towards a sustainable society
Originally from Australia, Samantha Seljak moved to Sweden to study the master's programme in Leadership for Sustainability. Today, she manages her own brand and wants to help other businesses become truly sustainable.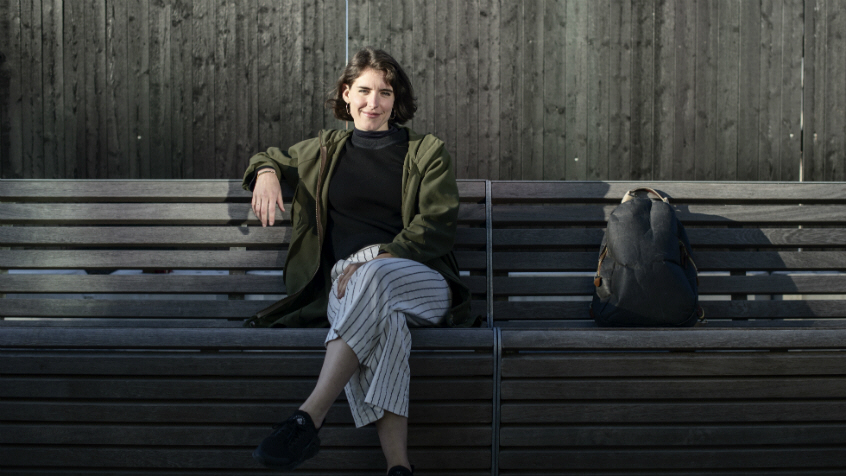 Working towards a sustainable society
Originally from Australia, Samantha Seljak moved to Sweden to study the master's programme in Leadership for Sustainability. Today, she manages her own brand and wants to help other businesses become truly sustainable.
"I was looking to do a master's overseas, and found that this programme was at the forefront when it comes to how sustainability interlinks with businesses and initiatives today, and I was very attracted to it for that reason," she explains.
Closing the loop
Today Samantha is managing the company Seljak Brand, together with her sister. They are dedicated to sustainability and the philosophy of the 'circular economy'. The first product they have developed is a blanket made out of recycled merino wool.
"The product uses offcuts from production, so we are basically using waste as a resource and have a collecting scheme so that the blankets never end up in a landfill; we have managed to close the loop entirely."
"My master's studies have been really good for Seljak Brand, it has really enabled me to understand the value of consulting as a leadership professional, and how my brand can offer more than just products. And as the programme includes a major in leadership and organisation, the skills and understanding you gain are applicable in any workplace you go to."
Combining sustainability and business
The master's programme offers insight into leadership and management of projects, companies and initiatives, all with a sustainability focus. It has a holistic approach, where business is always considered from perspectives other than financial. This ensures environmental considerations are taken into account. In this way, the programme covers the basis of changing business environments, and uses business as a tool to benefit society.
"The 90s and 00s corporate social responsibility model is being phased out in exchange for true sustainability measures. This programme was great at delving into what those are and the tools you need to be able to move forward, no matter if you are working for a company, starting your own business or working in a non-profit environment," Samantha adds.