Cookies
We use cookies on this website. By continuing to use this site you accept the use of cookies.
Arrival guide
Congratulations on being accepted to Malmö University! Now it's time to prepare for your move to Sweden.
Academic calendar
Autumn semester 2019: September 2- January 19.
Spring semester 2020: January 20- June 7.
Applying for residence permits
Students with citizenship in countries outside the European Union (EU)/ European Economic Area (EEA) are required to have a residence permit. In order to get a residence permit in time for your studies, it is essential that you apply for one immediately after you have paid your tuition fee.

EU/EEA citizens
As a citizen of a country within the EU/EEA, you have the right to reside and study in Sweden without a residence permit. For practical reasons, students who are studying for longer than one year are recommended to register with the Swedish Tax Agency in order to get a Swedish personal identification number.
Non-EU/EEA citizens
To be granted a residence permit you must:
be admitted to full-time studies;
have paid your tuition fee (not applicable if you are an exchange student);
prove that you are able to financially support yourself throughout the planned study period; and
have a valid passport.
You apply for a residence permit at a Swedish embassy or consulate in the country you are living in. You must have a valid residence card before you travel to Sweden. You can apply for a student residence permit online at the Swedish Migration Agency's website.
Personal identification number and coordination numbers
Having a personal identification number gives you access to services offered by private companies and authorities, such as bank accounts and gym membership. You apply for a Swedish personal identification number by registering with the Swedish Population Register. To be eligible, you need to:
have a residence permit valid for at least 12 months; or
be admitted to more than two semesters of study.
You need to be registered as a student at Malmö University before you can apply.
Read more at the Swedish Tax Agency's website
Coordination number
A coordination number can be used to identify people who are not registered in Sweden and is useful if you are, for instance, applying for a gym membership.

You can get a coordination number if you are a non-EU/EEA student and;
studying a one-year master's programme; or
accepted as an exchange student for more than one semester.
The University's International Office will contact you if you are eligible for a coordination number.
Private insurance and health insurance
The insurance you are provided when studying in Sweden depends on your citizenship and whether or not you are an exchange student.
EU/EEA citizens
The European Health Insurance Card is a free card that gives you the right to immediate medical treatment equal to Swedish citizens. If you do not bring this card, you risk having to cover all eventual costs. The card is provided by your national health insurance provider.
Non-EU/EEA citizens
If you have a residence permit valid for at least one year
If you are a bachelor's student or a two-year master's student, you are entitled to the same health benefits as Swedish citizens. You must, however, register for a personal identification number at your local tax office as soon as you arrive in Sweden.
Medical insurance does not cover your journey to Sweden, or any time prior to relocating. Therefore, to be fully covered, you will need some form of travel insurance.
If you have a residence permit valid for less than one year
Fee-paying students on one-year master's programmes or courses who hold residence permits for less than 12 months are covered by The Swedish State's Insurance for Fee-Paying Students (FAS).
Exchange students
All incoming exchange students are covered for accidents, liability and legal expenses through the Swedish State's Insurance for Foreign Students in Sweden (Student IN Insurance).
EU/EEA citizens are covered for emergency medical and dental care through their European Health Insurance Card. Make sure you bring your card with you when you come to Sweden.
Housing information
We strongly recommend that students start looking for accommodation as soon as possible after sending in their application.
Malmö University cannot guarantee accommodation to students who are not on exchange and not paying tuition fees. There are a number of options when it comes to housing and accommodation. Most student apartments are available through the regional housing agency Boplats Syd. Many students choose to share a place with other students or sublet.
Advice and tips on finding student accommodation in Malmö
Fee paying students and exchange students
International students paying tuition fees during their studies are guaranteed housing from Malmö University. Exchange students will be offered accommodation according to availability.
Learning Support
If you have a condition such as dyslexia, ADHD or impaired vision, you can apply for support based on your individual needs. Support includes assistance with note-taking, time extensions and access to a computer during examinations. Temporary illnesses or injuries do not make you eligible for learning support. If you have any questions about Learning Support, please contact funk@mau.se.
How to apply
You must have a computer ID in order to apply for disability support. You apply online through the NAIS database where you provide information about your disability and how it affects your studies. You need to include a certificate verifying your disability.
Apply for a Malmö University computer identity
Apply for Learning Support through the NAIS database.
What happens next?
When your application has been processed, you will be contacted by a member of staff who works with educational support. After discussing your needs together, you will receive a decision outlining the support you're entitled to.
How to get to Malmö University
Malmö's central train station is well connected within Sweden and internationally via links to Copenhagen. It boasts its own airport, Sturup, but for international travellers, it is best served by Copenhagen Airport — just a 20-minute train journey away.
If you are arriving at Arrival day, student mentors wearing orange vests will be at the train station to help with luggage and directions. When arriving at Malmö Central Station, follow the signs towards the Anna Lindhs Plats exit. From there, it is a short walk to the Student Centre.
Arrival day
We recommend that all exchange students, as well as international students who have housing through Malmö University, arrive on the official Arrival Day to get the keys to their accommodation and receive welcome information. University staff, student mentors and landlord representatives will be on hand at the Student Centre throughout the day to welcome students and answer any questions.
Arrival Day for autumn semester 2019 is August 22, between 09.00 and 17.00.
Please also note that your accommodation will not be available before Arrival Day. Should you arrive earlier, you can find information about youth hostel and hotels here.
What happens on Arrival Day?
There will be student mentors at the Malmö Central Station to guide you to the University and the Student Centre.
Once at the Student Centre, you will be called by a staff member to get your 'welcome package' and some practical information. Coffee and snacks will be available while waiting for your turn.
If you are taking the intensive Swedish course (for exchange students only), you can buy the required course book (300 SEK).
You will also have the opportunity to buy a bus card (220 SEK).
You can buy a ticket to the Österlen Bus Tour (200 SEK).
Finally, you will get a ride to your accommodation where you will meet your landlord, sign your contract and get the key (if you have housing through Malmö University). Please note that you will be asked to show a photo ID when signing your contract.
The Introduction Programme starts the following day with a welcome meeting.
Arriving late or after Arrival Day
If you arrive in Malmö later than 17.00 on Arrival Day, or at a later date, you will need to make an appointment with the Housing Office by emailing housing@mau.se.
The International Office does not have access to your keys, so it is very important that you make arrangements with the Housing Office beforehand if you are arriving in the city after Arrival Day or later than 17.00 on Arrival Day.
Introduction Programme
All new international students are invited to take part in the University's Introduction Programme starting on August 23. The programme consists of lectures and activities that are designed to help you become acquainted with university and student life in Malmö. It is also a great opportunity to get to know your peers and make new friends.
The Introduction Programme begins with a welcome meeting and is followed by a series of practical, academic and social activities. The programme is limited to a few activities every day. You are welcome to attend all activities, or just the ones you find relevant.
All activities are free of charge, but to some activities, we advise that you bring some cash if you would like to purchase something.
Introduction programme 2019
Friday 23 August
09:00-10:00 International Students Check-In
Location: Orkanen Lobby, Nordenskiöldsgatan 10, see no. 4 on the map at the back
Sign in for the Introduction Programme and receive your Welcome Pack.
10:00-12:00 Welcome Meeting
Location: Orkanen D138, Nordenskiöldsgatan 10
Welcome to the introductory session! We have prepared plenty of helpful information to get you started at Malmö University. You will get to meet the staff of the International Office and representatives from the Student Union while also getting a glimpse of what lies ahead during the next few weeks.
12:00-14:00 Mini-Fair (+ get your own lunch)
Location: Orkanen Lobby, Nordenskiöldsgatan 10
Meet with the Student Union and take the chance to chat with some of their associations. Maybe you will get some ideas on what to do with your spare time while in Malmö. You will also get the opportunity to buy a ticket for the Skåne Bus Tour, which is one of the activities of the Introduction Programme (200 SEK). Tickets are sold on a first-come, first- serve basis.
14:00 ESN Games
Meeting point: Orkanen Lobby, Nordenskiöldsgatan 10
Get to know your fellow students by participating in the ESN Games. This is an outdoor activity and we advise you to wear comfortable shoes and clothes. In case of rain, the games will be replaced by an indoor activity.
---
Saturday 24 August
11:00-14:00 Living on a small budget – Grocery shopping tour
Meeting Point: Café Rönnen entrance
Let our student ambassadors show you where to find the best and cheapest groceries around Malmö.
---
Sunday 25 August
13:30-15:30 Visit IKEA or City Tour with ESN (optional)
Note: Meeting point IKEA trip: Front entrance of Rönnen International
Meeting point City Tour: Entrance of Niagara
Looking to get your new room a bit more personalized? Satisfy all your furnishing needs by joining this visit to IKEA Malmö store together with your ESN buddies. ESN will help you get there; you do the rest in this world-famous Swedish home furnishing store!
---
Monday 26 August
10:00-12:00 Love, Work & Play Workshop
Location: Orkanen D138, Nordenskiöldsgatan 10
Join this fun and interactive workshop about how to get the best out of your studies in Malmö, while combing studies with both love and play.
If you don't feel like going to IKEA we have another option for you: Join ESN Malmö on their City Tour and explore your new home town.
13:00-14:00 Computer Introduction and Library Information
Location: Orkanen D138, Nordenskiöldsgatan 10
Being able to find your way in the book collection and library system will be essential in order for you to succeed in your studies. During this tour, you will get an introduction to the most important features of the university library. This session will also guide you through the virtual world of Malmö University and teach you how to log onto the university computers, use the printers and much more!
14:15-16:00 UF Malmö – Association of Foreign Affairs
Location: Orkanen, D138, Nordenskiöldsgatan 10
This session will be brought to you by one of the student associations. More details will follow!
18:00-20:00 Exploring Malmö B Side with Connectors Malmö
Meeting Point: Orkanen front entrance, Nordenskiöldsgatan 10, short walk to STAPLN
Explore secret Malmö with a local! Join the Connectors Society for a virtual tour of creative spaces, art studios, supermarkets, music venues, food, coffee, second-hand shops and secret gems of the city. Discover spots that make Malmö one of the most multicultural places on earth.
---
Tuesday 27 August
10:00-12:00 Introduction to Swedish as a Foreign Language
Location: Niagara C0E11, Nordenskiöldsgatan 1 – see no. 3 on map
Get your first introduction to the language of your new home country! You will get help in your struggle to learn those strange letters å, ä, ö and to understand soon-to-be familiar words such as hej, cykel and öppettider.
12:00-20:00 Skåne Bus Tour – ticket needed
Meeting point: Orkanen, Nordenskiöldsgatan 10, front entrance
An excursion to the scenic region Österlen in the southeastern part of Skåne. The tour will go to Glimmingehus, Kåseberga and Ale stenar. Please note: Bring snacks/your own lunch. You can buy your ticket after the Welcome meeting on 23 August.
---
Wednesday 28 August
10:00-11:30 Welcome to Careers Services, your bridge to the future
Location: Student Centre Canteen, Matrosgatan 1
Find out what support and services are available to you if you're interested in finding employment during and/or after your studies. This session will give you a sneak peek and some valuable tips on how you can market your skills and competencies.
14:00~15:30 Visit to Your Faculty/Department
Meeting Point: Orkanen, D138, Nordenskiöldsgatan 10
Meet up with representatives from your faculty/department and familiarize yourself in your new academic surroundings. Please note: Study related information will, in most cases, be given to you on your first day of class this is only a meet-and-greet type of visit.
15:30- Picnic
Location: Outside Rönnen
Bring your own food, drinks and a blanket and meet up with fellow students for a picnic. In the event that it rains, the picnic will be cancelled
---
Thursday 29 August
10:00-12:00 Information session by the International Office
Location: Student Centre, Matrosgatan 1
If you need information regarding Insurance, residence permit, Swedish personal number or coordination number, then don't miss this opportunity to talk to our staff at the International Office as well as the Swedish Tax Office and get all the essential information you need.
13:00-15:00 Introduction to the Swedish Academic System
Location: Gäddan, G125, Citadellsvägen 7 – see no. 1 on the map at back
Coming from another academic culture, adjusting to the Swedish academic system can be quite difficult. This session gives you an insight into the Swedish university culture, the student-teacher relationship, work and examination forms, and the student's rights and responsibilities – essential knowledge for your university studies.
15:30 - Activity together with Tjuvkik
TBA
---
Friday 30 August
10:00-12:00 Swedish Fika @ the Student Centre
Location: Ground floor of the Student Centre
Meet with the staff at the Student Centre and get to know the services you can take advantage of during your studies in Malmö. There will be fika!
13:00-14:00 Safety and Security
Location: Orkanen D138
If any lecture has it all, this one does: Emergency evacuation information, Swedish laws you are probably unaware of and a real Police Officer. Don't miss it! Trust us; you will want to know what to do if you lock yourself in a classroom late at night.
16:00-17:30 Welcome Reception - Hosted by the City of Malmö
Location: Old City Hall, Malmö – see no. 6 "Rådhuset" on the map at the back.
The Mayor and the city of Malmö invite all international students to a welcome reception with drinks, snacks, and a chance to see the inside of the City Hall! Remember to bring your invitation card, which you can pick up after the Welcome Meeting. Please note that attendance is mandatory if you signed up!
19:00-late Welcome Party
Location: Kölsvinet in the Student Union building - see no. 5 on map at the back
Ready to let loose after the Welcome Reception? Erasmus Student Network invites you to a party at the Student Union to finish off the Introduction Programme and get you ready for the semester.
---
Map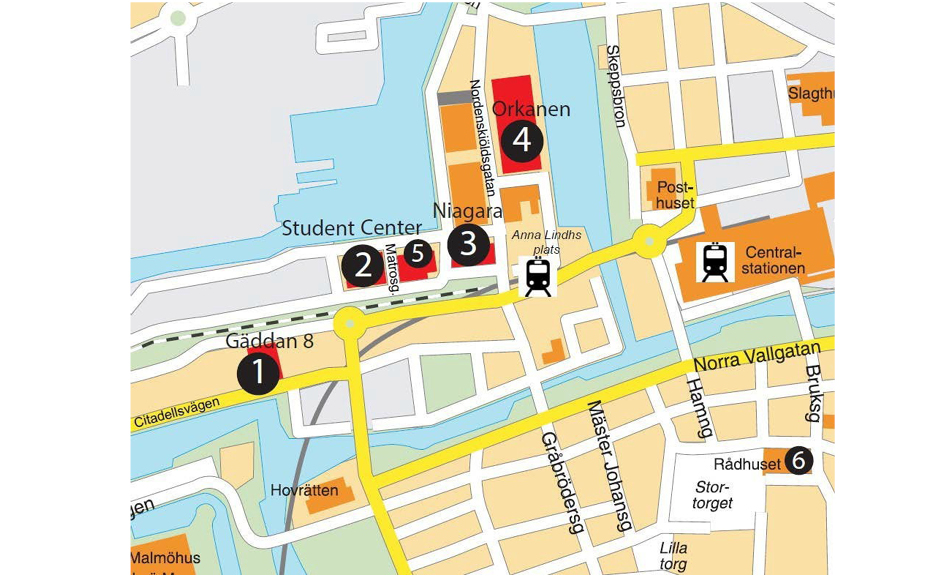 1. Gäddan, Citadellsvägen 7
2. Studentcentrum (Student Centre), Matrosgatan 1
3. Niagara, Nordenskiöldsgatan 3
4. Orkanen, Nordenskiöldsgatan 10
5. Student Union Building, Bassängkajen 8
6. City Hall ("Rådhuset"), Stortorget