Alumni portrait Isabelle Liljekvist Bjers
Teacher with a sense for aesthetic forms of expression
Even as a child, Isabelle Liljekvist Bjers taught her newfound knowledge from school to her younger siblings. Being a teacher and an important part of many children's lives comes naturally to her and in painting and photography, Isabelle has found how to express herself creatively.
Picture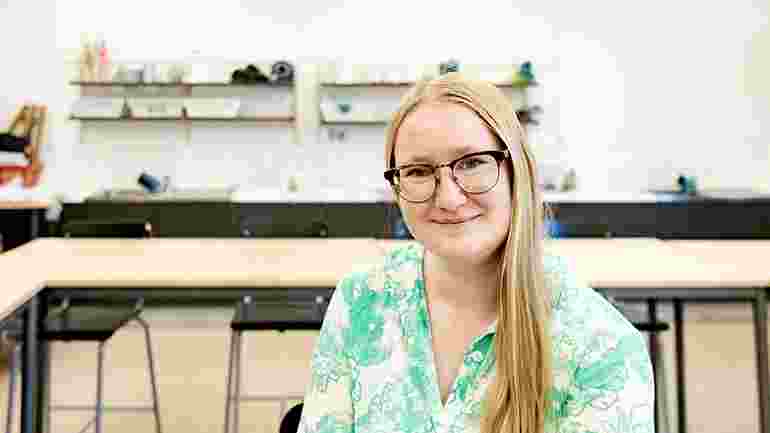 "When I started teacher training and told my family and friends, they all said, 'We already knew you were going to be a teacher, and you'd just figure it out for yourself'. The students are the reason why I am a teacher in the first place. Imagine being the teacher the student remembers and who made a difference," she says.
Right after high school, Isabelle started taking a course in ethnology, which she dropped out of, and started working at a hamburger chain restaurant. She soon became a shift manager, and then moved to a coffeeshop, a job she enjoyed.
"Deep down I felt that I wanted to study, but I didn't know what and I was a little afraid to do it. I applied to the police training and then for a while I was convinced that I would study to be an archaeologist. But then I realised I wanted to become a teacher. I am the first in the family to study, although now my mother is studying to become a vocational teacher at Malmö University," she said.
In addition to art, Isabelle is authorised to teach her second subject, religion. Outside of work, she is studying remotely to obtain a qualification in history and also plans to complete the other social sciences, geography and social studies.
"The idea was to study history as part of the programme, but an exchange semester in the fourth semester was more appealing."
From campus life to distance learning in Australia
Isabelle had dreamed of living or working abroad for as long as she could remember but didn't dare take the plunge. But she felt this opportunity was the last chance.
"I was looking forward to living the student life in Australia, but I left in the middle of the pandemic. After two weeks we had to start studying remotely and I chose to stay in Perth for the whole semester. Before the trip I met another student who I travelled there with, we are still close friends."
During her studies, Isabelle worked as a student ambassador at Malmö University and participated in study visits and events. Accustomed to speaking in front of hundreds of people when welcoming new students, it was no problem to start teaching 27 students.
"I felt at home at Malmö University; the feeling of not being able to study disappeared when I started there. I had the same opportunities as everyone else, even though I didn't come from an academic family," she added.
Shortly after graduating, Isabelle got a job as an art teacher at a primary school. She chose the subject of art partly because of her interest in painting, drawing and photography, and partly because the programme was open for late applications.
Another view of the teaching profession
At first she felt quite insecure in her new role; her image of the teaching profession did not quite match reality.
"We learn how to plan lessons, but since I work with students and children, they don't always want what I have planned. I have learned to make quick decisions, make changes to lessons and be flexible to make the lesson work.
During the teacher training's activity-based training in schools, Isabelle has had hands-on training in teaching and what she needs to do as a teacher.
"Reading about conflict management and resolving conflicts in an actual situation are two completely different things. We are working with individuals, and everyone is different," she says.
After a full academic year at the school, Isabelle feels more secure in her role as an art teacher. She has gotten to know the students and is supported by her colleagues, who she supports back.
"For me, it's the most fun job in the world with no two days being the same – just the way I want it! I enjoy school and my colleagues very much, and I love the students," she adds.
Page modified: 2023-07-05