Eric Lassiter and Beth Campbell new honorary doctors at the Faculty of Education and Society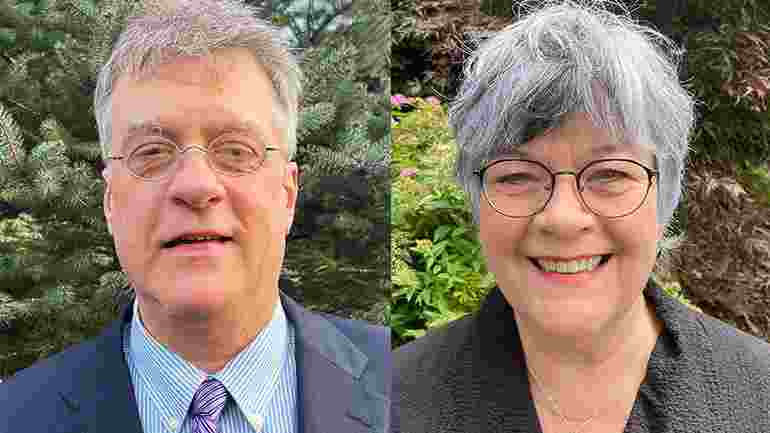 Eric Lassiter and Beth Campbell have been awarded honorary doctorates at the Faculty of Education and Society. Their research focuses on ways in which researchers and the people being studied can together contribute to research processes and dissemination of knowledge.
Eric Lassiter is a professor at Marshall University in West Virginia, USA. In his research on collaborative ethnography and shared processes of teaching, he explores how researchers and students can collaborate and promote mutual learning by writing together.
"I've become increasingly interested in how collaborative modes of research and writing can engender shared pedagogies between and among faculty, students and community members, as they actively engage in joint processes of teaching and learning about difference," says Eric Lassiter.

Beth Campbell, associate professor at Appalachian State University's Reich College of Education in North Carolina, USA, also focuses on collaborative research and writing, particularly through shared agency and engagement. The two researchers have been working and publishing together for a long time.
"This is an incredible honour, especially because of Malmö University's long commitment to interdisciplinarity, collaboration and teacher education. Having recently concluded an administrative term at my university, I'm excited about – and deeply grateful for – the new opportunities for collaborative research and action this appointment will bring," says Beth Campbell.
"Being associated with the Faculty of Education and Society in this manner is a great honour and privilege. I'm especially pleased that our research and writings have found resonance with the work of faculty and students here. I look forward to further dialogue across fields and universities," says Eric Lassiter.

Published by: Marc Malmqvist
Justification
The justification for the award states:
Elizabeth Campbell and Eric Lassiter have not only brought up and developed possible solutions to issues related to all research and writings done on ethnographic research. Through their work, they have raised issues related to participatory research, where researchers and the researched collaborate in the research process – a growing trend at our University.