New honorary doctors appointed at the Faculty of Technology and Society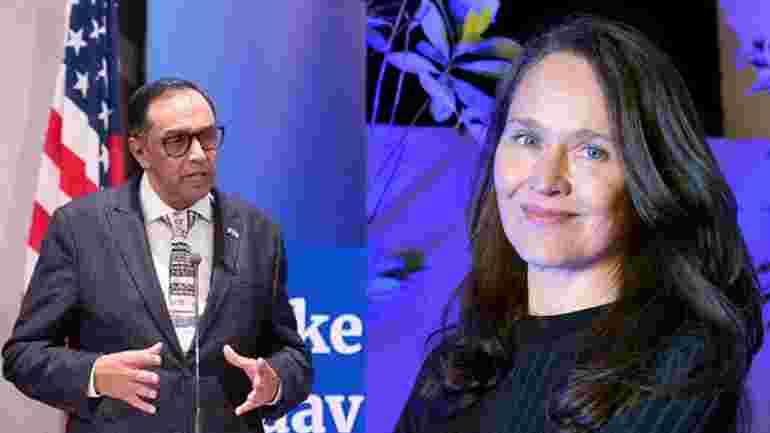 Two new honorary doctors have been appointed at the Faculty of Technology and Society at Malmö University. Sarah Pink, professor at Monash University in Australia, and Sunil Maharaj, professor at the University of Pretoria in South Africa are both looking forward to new and continued collaborations.
I am of course both proud and happy to be able to welcome Sarah Pink and Sunil Maharaj to the University and the faculty.
Andreas Jacobsson
Dean at the Faculty of Technology and Society
The justifications for Pink's appointment included: 'Her method development has influenced and inspired thousands of researchers and led to significant changes in how qualitative research is conducted and managed outside the academy.'
In relation to Maharaj's appointment, part of the justification read: 'Sunil Maharaj has over 30 years of research experience in academia and industry and has collaborated in various research projects at Malmö University for the past five years, which has resulted in successful cutting-edge research.'
More about Sarah Pink
Pink has contributed to knowledge and insights in areas as diverse as energy, climate and sustainability, health, well-being, and digitalisation.
"I am absolutely delighted to be awarded an honorary doctorate from the Faculty of Technology and Society here at Malmö University. The agenda to research and teach technology and society under a shared banner is fundamental to my work, and I feel very privileged to be connected to my excellent colleagues in the Faculty.
"I am also honoured to have this connection with Malmö University with its strong reputation for participatory design, and the very approaches which help us to work towards the human and planetary wellbeing which must underpin our socio-technical futures."
More about Sunil Maharaj.
Maharaj has been recognised internationally for his pioneering and innovative work in 5G and rural broadband communications. In particular, for his research contributions on reliable communication technology in hard-to-reach areas of sub-Saharan Africa.
"Through my research collaboration in the area of wireless communications with Professor Reza Malekian, I hope that through this award we can strengthen the collaboration between the University of Pretoria and Malmo University. There has been a long, strong educational partnership over the years between Sweden and South Africa and through this honour bestowed on me by Malmo University, I hope we can strengthen this."
Andreas Jacobsson is the dean at the Faculty of Technology and Society. Reflecting on the appointments, he said:
"Through this year's two honorary doctorate appointments, the faculty's profile of education and research in technology is strengthened for the good of society. I am of course both proud and happy to be able to welcome Sarah Pink and Sunil Maharaj to the University and the faculty and I hope that we are only at the beginning of the great work that we can achieve together."
Text: Magnus Erlandsson