The benefits of dental professionals' home visits to new parents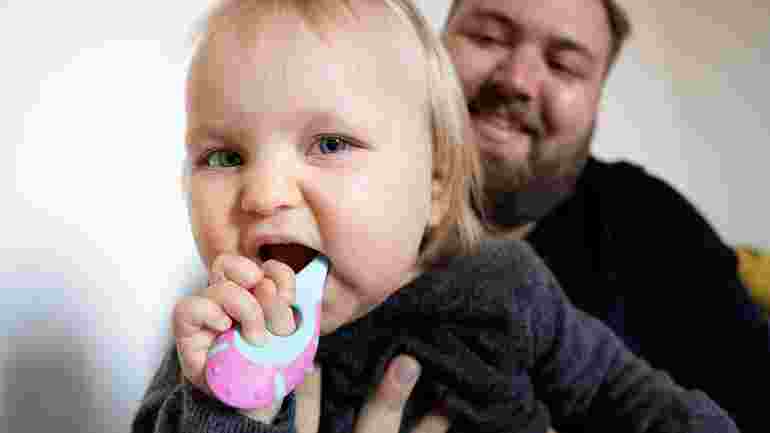 There are many advantages to having dental care staff make home visits to parents who have had their first child. This is according to a new study that examined the role of dental care in the home.
A Swedish child health service in the south of Sweden has collaborated with maternity care, social services and dental care to form interdisciplinary teams. In the expanded home visit programme, first-time parents received six home visits instead of the usual two during the child's first 15 months. When the child was around eight months old, they received a visit from a dental nurse or dental hygienist together with a paediatric nurse.
You can see the home environment, what the children have in their baby bottles, and whether there are sweets on the table.
Cecilia Franzén
The reason why dental care participated at this stage was because the proportion of preschool children with caries is high in the particular region of Scania.
Together with other researchers at Malmö University, Cecilia Franzén, senior lecturer at the Faculty of Odontology, has evaluated the programme. The results show that the home visits created trust and security among the parents and that the different professions felt that they could complement each other's knowledge.
In a recently published study, Franzén has interviewed dental nurses, dental hygienists, and child healthcare nurses about their experiences. Making home visits was seen as a major advantage by the interviewees.
"You can see the home environment, what the children have in their baby bottles, and whether there are sweets on the table. There were also spontaneous questions from parents about food and drink, which created an opportunity to give advice based on the needs of individual families," says Franzén.
The interviewed nurses appreciated the presence of a dental hygienist or dental nurse and believed that they could contribute extra expertise on oral health. However, this type of visit would be most beneficial if resources were targeted to those with the greatest need rather than offering it to everyone.
"We know that needs are very different when it comes to dental care. One of the suggestions from the interviewees was therefore to target the efforts to the parents who needed it most."
The aim of the localised initiative is a more equal start in life. Since spring, the programme has been made permanent in the region, but is only aimed at certain groups and areas deemed to be vulnerable. However, dental care is now no longer part of the interdisciplinary teams.
"Compared to clinic visits, a meeting at home is more relaxed for the family and the advice is also more specialised," according to the interviewed dental professional, says Franzén on the decision not to include the dental specialists, adding:
"But the most important thing is to identify the children who need extra support. This support can take different forms, it can take place at preschools or in another form of collaboration between nurses and dental care."
Text: Anna Dahlbeck & Adrian Grist
Om forskningen och Växa tryggt