New honorary doctors appointed at the Faculty of Health and Society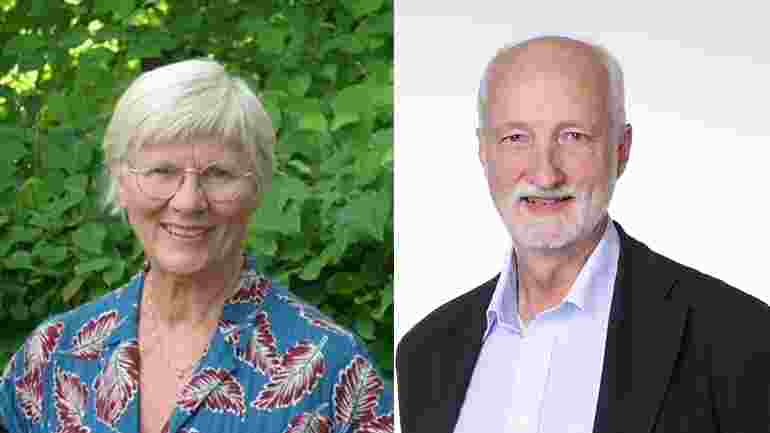 Two new honorary doctors, Anneli Larsson and Dr Anders Frid, have been appointed at the Faculty of Health and Society, Malmö University, for their efforts to promote education, research and collaboration.
"This year's honorary doctors personify how strategic and sustainable long-term collaboration with both Region Skåne and the City of Malmö has built, and continues to build, our faculty's education and research. In this way, our knowledge stays directly implementable and relevant to our academic professional programmes," says Anders Kottorp, dean of the Faculty of Health and Society.
Anneli Larsson, Honorary Doctor of Philosophy
Anneli Larsson has had a major impact on the faculty, especially the Department of Social Work. As director of administration at the City of Malmö's Social Resource Administration, and later at the Functional Support Administration, she has played a central role in several joint initiatives between the city and the University. Examples of these are the establishment of a graduate school for working social workers, as well as the creation of the STYRKA collaboration – a structure between the faculty and Malmö's social service administrations.
According to the justification, Larsson's courageous and pioneering efforts have contributed to a knowledge-driven social service and a significant strengthening of practice-based research at the Department of Social Work.
"I'm proud and honoured to receive this award. The collaboration with Malmö University has been an important task in my leadership role. It has been particularly enjoyable to start up the graduate school, together with representatives from the University, which creates good conditions for long-term and sustainable cooperation and joint knowledge development on important societal issues," says Anneli Larsson.
Anders Frid, Honorary Doctor of Medicine
Since earning his doctorate at Karolinska Institute in 1992, Anders Frid has focused on topics of great relevance to diabetes care. At the Department of Care Sciences, he has for many years provided hundreds of future nurses with solid knowledge about diabetes and how care can be designed to suit the individual.
According to the justification, Frid has distinguished himself as an outstanding researcher by working on topics close to the everyday work of nurses, and with his rare ability to pedagogically explain complicated medical contexts without losing the scientific rigour.
"Being awarded an honorary doctorate is quite overwhelming, but I take it as a sign of appreciation. My work has more or less only focused on diabetes care, where nurses have a very strong and independent role. They must be aware of their value as a diabetes nurse, and I always aim to communicate that in my teaching. There is a lot happening in the field of diabetes, which means that I will continue to teach – even though I'm over 70. We doctors need help from the nurses," says Anders Frid.
Text: Hanna Svederborn