Cookies
We use cookies on this website. Cookies help us deliver the best experience on our website. Read about cookies.
Sustainable Public Management Baltic Sea and Eastern Europe
Sustainable Public Management
Baltic Sea and Eastern Europe
The Swedish Institute Academy for Young Professionals (SAYP) is a two-week intense training programme held in Sweden. The programme is developed to build awareness, capacity, and resilience in the practice of governance in the countries in the Baltic Sea region and the EU Eastern Partnership countries. The training programme Sustainable Public Management at Malmö University will take place 25–26 May 2023 (online), and 12–23 June 2023 (in Malmö). Participation in the Academy is free of charge and include meals, accommodation, and travel.
Travelling to Malmö
We look forward to welcoming you to Malmö University between 11 June and 24 June.
The focus of SAYP is to strengthen young professionals and their individual capabilities to meet the requirement of a modern governance structure. The participants will also be able to expand their contact networks and share ideas, experiences, and challenges.
The programme provides future possibilities to participate in follow-ups and thematic workshops afterwards, as fellows of the Swedish Institute alumni network – a vast professional and global contact network meant to keep building good practices and mutual learning processes for a sustainable future.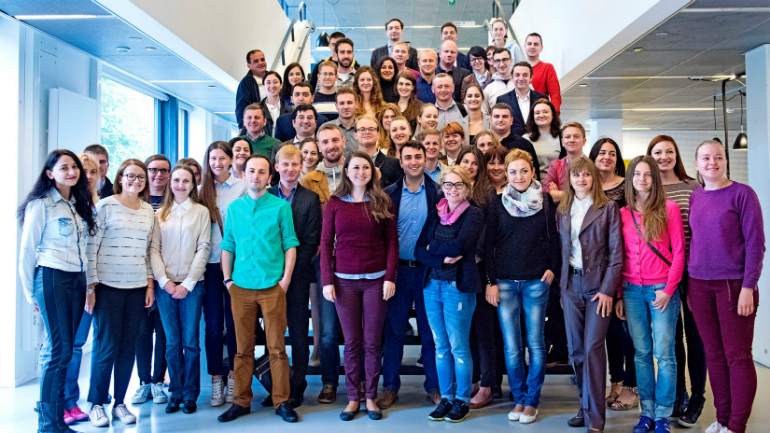 SAYP participants 2015. Photo: Aline Lessner
Testimonials
SAYP represents a great opportunity to study and explore common problems faced by our local and national government with colleagues from neighbouring countries. Through lectures, group work, study visits and constant discussions you will get a deeper understanding of the issues we all struggle with, and potential solutions based on the Swedish model. After the course I took advantage of the opportunity provided to put into practice new knowledge and skills by developing and implementing a project idea. This helped the NGO I work for accelerate our work in the area of citizens' access to information.
Cristina Voroneanu, Good Governance Advisor, Primaria Mea, Chisinau, Moldova
SAYP definitely will broaden your scope, both professionally and personally. The areas and topics covered by the SAYP provide a broader view of various public administration processes basing on deeply rooted Swedish experience in the good governance practice. Cooperation and experience sharing with other participants enriches the experience gathered through SAYP. You grow not only professionally, but also personally. SAYP is definitely an opportunity to acquire new knowledge, shape your mind, experience diversity, find new contacts and networks for future projects. Distance learning brought us even closer. Zoom in on new knowledge, friendship and opportunities by being part of the SAYP-community!
Anete Kopštāla, Health Promotion Coordinator at Liepaja City Municipality Administration, Latvia
Who can apply?
We welcome applications from young professionals from Sweden, Estonia, Latvia, Lithuania, Belarus*, Ukraine*, Moldova, Armenia, and Georgia:
Public servants (non-political civil servants at local, regional, or central level)
Policymakers (politicians, government officials, employees of political parties)
Civil society workers (CSO/NGO volunteers/employees)
You can apply if you are born 1988 or later. Due to the current war in Ukraine the Swedish Institute has decided to simplify the process for all applicants. Now citizenship in an eligible country is sufficient.
A requirement for any applicant is a good command of the English language (the degree of proficiency should be specified in the application) and a relevant education, consisting of at least three years of previous studies. 
If you are applying from Belarus
* Due to the current situation in Belarus, SI took the decision, as of 1 October 2020, to not provide financial support to Belarusian state employees for activities within SAYP. None-state actors from Belarus are welcome to apply.
* Due to the attack on Ukraine, we are opening the possibility for all Ukrainian citizens, independently where they reside, to apply to SI Academy for Young Professionals (SAYP) 2023. 
The programme Sustainable Public Management will be held at Malmö University 25–26 May 2023 (online) and 12–23 June 2023 (in Malmö). The first track is structured thematically and will cover topics such as: public management, governance, transparency, leadership, gender equality and public ethics. Each topic is introduced by a lecture, followed-up by a group seminar, and completed with a practically oriented seminar with representatives from a Swedish governmental agency or civil society organisation. The second track is oriented towards project management and group-work. Specific focus will be directed towards cross-sector collaboration and social- and public innovation.
Through the course each student will participate in a multinational  group exercise working with specific tasks to facilitate mutual learning processes. At the end of the course groups will deliver a presentation. The group work will be facilitated by a series of lectures on project management.
After finishing the course, the participants shall be able to:
Discuss and understand the values of sustainable public management, especially concerning the role of management in governance structures and in promoting change
Make relevant value judgements within the public sphere, such as equality, transparency, and public ethos
Formulate a project aimed at cross-sectoral collaboration and social- and public innovation within set timeframes and, as a part of a team, prepare and present this project
Actively use one´s specific skills and knowledge to contribute to a process of mutual learning
Discuss effects of bad governance and present practices of how bad governance can be countered
How to apply
Apply to the SAYP Baltic Sea and Eastern Europe 2023 programme at Malmö University. 
Application period: 7 March – 5 April 2023.
Apply in the application portal
Read more on the Swedish Institute's website
Submit documentation
For your application to be processed you must submit supporting documentation. Download and fill out the templates below and submit in the next step. 
Page modified: 2023-03-21