Cookies
We use cookies on this website. Cookies help us deliver the best experience on our website. Read about cookies.
Sustainable Public Management Western Balkan
Sustainable Public Management
Western Balkan
The Swedish Institute Academy for Young Professionals (SAYP) is a two-week intense training programme held in Sweden at Malmö University, developed to build awareness, capacity and resilience in the practice of governance in the countries in the Western Balkan region. The programme Sustainable Public Management will be held at Malmö University 2–3 June 2022 (online), and 8–19 August 2022 (in Malmö). Participation in the Academy is free of charge and include meals, accommodation and travel.
Travelling to Malmö
We hope to be able to welcome you to Malmö university between 7 August and 20 August 2022. 
The focus of SAYP is to strengthen young professionals and their individual capabilities to meet the requirement of a modern governance structure. The participants will also be able to expand their own contact networks and share ideas, experiences and challenges.
Sustainable Public Management aims to strengthen young professionals in their work to create a more transparent, resilient and efficient public administration.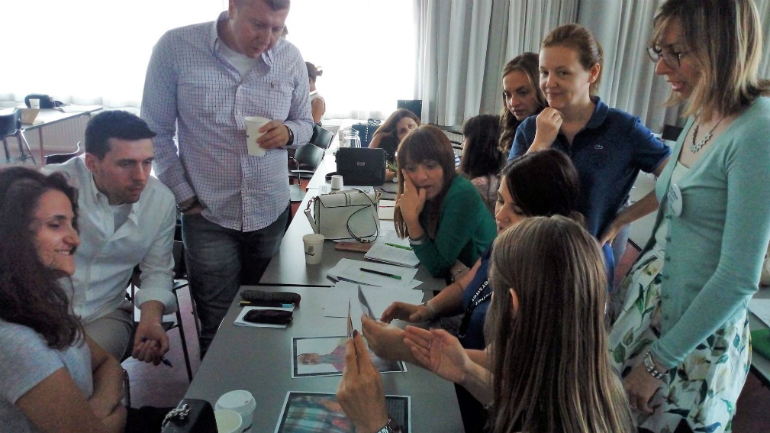 Testimonial
The structure and the content of the lectures of the SAYP WB 2018 were well adapted to today's challenges, and we had fully interactive session and team assignments to constantly challenge ourselves. I appreciated the extremely high professional and academic level of both peers and lectures but also the ongoing support and assistance provided by the organising staff when needed. After the programme I also benefited from the peer shadowing opportunity which I also used and spent two valuable weeks in Malmö University. SAYP did not only meet but exceeded my expectations.
Aleksandar Nacev, Assistant Professor and Dean of the Faculty of Detectives and Criminalistics in the European University in Skopje, North Macedonia.
Two tracks
The programme consists of two parallel tracks. The first track is structured thematically and will cover topics such as: public management, governance, transparency, leadership, gender equality and public ethics. Each topic is introduced by a short lecture, followed-up by a group seminar, and completed with a practically oriented seminar with representatives from a Swedish governmental agency or a civil society organisation. The idea is to within each theme move from a theoretical and research perspective to a more practical and tool-oriented discussion. The Swedish cases presented at the seminars will serve as examples for discussions on issues pertinent to all public servants or civil society activists, regardless of cultural or organisational context.
The second track is oriented towards project management and group-work. Throughout the course each participant will participate in a multinational group exercise working with specific tasks in order to facilitate mutual learning processes. Specific focus will be directed towards cross-sector collaboration and social- and public innovation. At the end of the module each project group will present a project connecting to one or several themes of the module. The group work will be facilitated by a series of lectures on project management with focus on cross-sector collaboration and social- and public innovation.
Testimonial
SAYP was probably one of the best educations that I have had in my life. Never before have I experienced that we as participants managed to establish such a great connection between ourselves and our dedicated, warm and kind professors. We are still very good friends who had that luck to co-operate and participate together in many projects with the aim to improve relations between Western Balkan countries and to make our future much brighter. Without SAYP – it would not have been possible. It is really a life-changing experience in wonderful Malmö town that I would recommend.
Ana Stevanovic, PhD in Art and Media and Member of the National Assembly, Belgrade, Serbia.
Who can apply?
We welcome applications from young professionals from Albania, Bosnia and Herzegovina, Kosovo, North Macedonia, Montenegro, Serbia and Sweden:
Public servants (non-political civil servants at local, regional or central level)
Policymakers (politicians, government officials, employees of political parties)
Civil society workers (CSO/NGO volunteers/employees)
You can apply if you are born 1987 or later.
A general requirement for any applicant is a good command of the English language (the degree of proficiency should be specified in the application) and a relevant education, consisting of at least three years of previous studies.
After finishing the course, the participant shall be able to:
Discuss and understand the values of sustainable public management, especially concerning the role of management in governance structures and in promoting change
Make relevant value judgements within the public sphere, such as equality, transparency and public ethos
Formulate a project aimed at cross-sectoral collaboration and social- and public innovation within set timeframes and, as a part of a team, prepare and present this project
Actively use one´s specific skills and knowledge to contribute to a process of mutual learning
Discuss effects of bad governance and present practices of how bad governance can be countered
How to apply
Apply to the Swedish Institute Academy for Young Professionals 2022 Western Balkan programme.
Application period: 3 March – 1 April 2022.
Read more on the Swedish Institute's website
Submit documentation
For your application to be processed you must submit supporting documentation. Download and fill out the templates below and submit them in the next step. 
Please note!
Please also send in your CV in word- or pdf-format (there is no template for CV)
Western Balkan literature list
Dahlström, Carl, Viktor Lapuente & Jan Teorell (2011) The Merit of Meritocratization: Politics, Bureaucracy and the Institutional Deterrents of Corruption, Political Research Quarterly, Vol. 20, N. 5: 1-13.


European Commission (2018) A credible enlargement perspective for and enhanced EU engagement with the Western Balkans (https://ec.europa.eu/commission/sites/beta-political/files/communication-credible-enlargement-perspective-western-balkans_en.pdf)


Fukuyama, Francis (2013) Democracy and the Quality of State, i Journal of Democracy, Vol. 24, N. 4: p. 5-16.


Meier, Petra & Karen Celis (2011) Sowing the Seeds of Its Own Failure: Implementing the Concept of Gender Mainstreaming, i Social Politics, Vol. 18, N. 4: p. 469-489.


Meijer, Albert J. (2012) Introduction to the special issue on government transparency, in International Review of Administrative Sciences, Vol. 78, N. 1: p. 3-9.


Meyer-Sahling, Jan-Hinrik (2016) Glass half full? Or half empty? Civil service professionalization in the Western Balkans between successful rule adoption and ineffective implementation, NICEP Working Paper: 2016-12, Nottingham Interdisciplinary Centre for Economic and Political Research.


Statskontoret (2013) Swedish Public Administration from an International Perspective, Stockholm: Statskontoret (http://www.statskontoret.se/upload/Publikationer/2014/Offentliga-sektorns-utveckling-internationellt-Kap1-och-10_English-.pdf)
Page modified: 2022-06-13