Cookies
We use cookies on this website. Cookies help us deliver the best experience on our website. Read about cookies.
Rethinking Democracy
The Rethinking Democracy research platform (REDEM) is a shared space for discussing questions around democracy. We consider broad issues such as what democracy actually is, how it should work, and criteria for a functioning democracy. Alongside this, we consider how democracy functions beyond formal political settings, and in other spheres of social life.
Want to join?
The Rethinking Democracy research platform is open to all researchers at Malmö University and our external stakeholders who are broadly interested in theories and practices of democracy and its discontents.

Do you want to receive news on seminars and events organized by the platform? Or perhaps you have a paper you want to present? A seminar you would like to organize or a guest speaker you would like to invite? Do not hesitate to contact us at redem@mau.se
Our research
We live in a time of democratic paradoxes. A number of democratically elected leaders in the world are challenging basic democratic norms and institutions, and subverting the language of democracy to legitimise their actions. Younger generations are less likely to vote, yet often engage with political issues more than older generations.
Corporations have gained greater rights to counter public interest regulations, but we also see new forms of consumer participation and shareholder activism. Democracy is traditionally tied to the nation state, but issues seem to increasingly require transnational and/or local action. Political parties gain votes on the basis of being 'nationalistic', but many of their policies impact those who are not included within the nation-state's boundaries.
REDEM combines the disciplines of political science, history of ideas, cultural studies, media studies, linguistic studies, communication for development and urban studies. From these respective backgrounds we address questions related to the multiple crises currently facing liberal and electoral democracy, the history and future of democracy and possible ways of rethinking democratic institutions, and civic engag​ement in the face of growing movements of authoritarian populism.
We work across four core themes:
A political representation crisis?
This examines new 'representation gaps' arising from migration, transnational citizenship, linguistic exclusion and new public management practices.
Extra-institutional democracy and everyday public spheres
Looking at democracy in the everyday sphere, it focusses on traditional and social media, and economic activity as a means of contesting social and political configurations.
Conviviality – conceptual ambiguities and envisioned futures
Addresses the presence of the stranger and the radically new double demand on democracy for social justice for the recognition of difference. The lenses of three inter-related concepts are used – cosmopolitanism, conviviality and creolisation.
The global diffusion and reversal of counter-norms to liberal democracy
Investigates the global spread of the rhetoric of illiberalism, using analytical tools as theories of political rhetoric, diffusion of political ideas, and discourse analysis.
Redem seminars
REDEM Seminars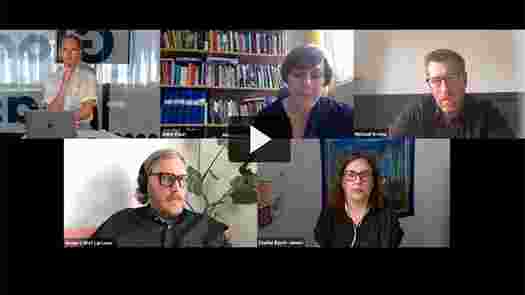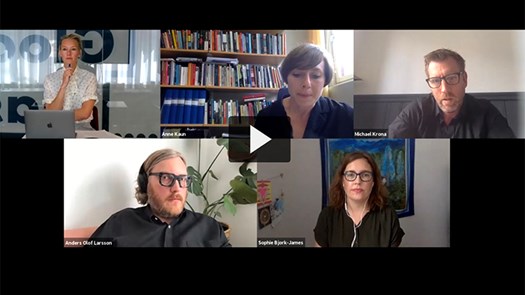 REDEM Seminars
REDEM's task is to foster well-informed and critical discussions around the past, present, and future of democracy as a political form for public decision-making. Take part in our public video archive.
Pandemocracy
Pandemocracy
Conviviality and everyday politics in times of crisis. 15-16 September 2021 – A two-day international conference on rethinking democracy in the context of the Covid19 pandemic.
https://play.mau.se/playlist/dedicated/318661/0_rapanfia/0_r17hlqui
Pandemocracy
The conference 15-16 September 2021 explored the challenge and opportunities the pandemic created for democracy, with a special focus on everyday democratic engagement, conviviality, local politics, activism and communication for social change.
The Pandemocracy Conference – program and links
Wednesday 15 September
Intro and welcome
With Professor Rebecka Lettevall, Dean of the Faculty of Culture and Society
The pandemic as an accelerator: Implications of digitalization
Keynote 1 with Thomas Hylland Eriksen, Professor of social anthropology, University of
Oslo. Chair: Oscar Hemer, Malmö University
MaU Play – keynote 1: Thomas Hylland Eriksen
Distrust, fear and disinformation
Paper panel 1 with Chair: Anders Hög Hansen, K3, Malmö University.
MaU Play – Panel 1: Distrust, fear and disinformation
The pandemic's role in reconfiguring power relations
Paper panel 2 with Chair: Maria Brock, K3, Malmö University.
Roundtable discussion
Magdalena Nowiska (Humboldt university Germany),
Marina Nistotskaya (University of Gothenburg, Sweden) and Gabriel Siles-Brugge (Warwick University, UK)
Covid-19 and Governance: Crisis reveals
Keynote 2 with Jan Nederveen Pieterse, Professor of Global Studies and Sociology at University of California Santa Barbara US. Chair: Oscar Hemer
MaU Play – Keynote 2: Jan Nederveen Pieterse
Thursday 16 September
The connective work of everyday democratic repair
Keynote 3 with Carolyn Hendriks, Professor at the Crawford School of Public Policy
Australian National University. Chair: Michael Strange, Malmö University
Mau Play – Keynote 3: Carolyn Hendriks
Populism and the pandemic
Paper panel 3 with Chair: Anders Hellström, Malmö
University.
Mau Play – Panel 3: Populism and the pandemic
Media distrust and vaccine hesitancy in the context of the covid-19 pandemic crisis: findings from a European panel survey
Keynote 4 with Anne Kaun, Media and Communication Studies, Södertörn University,
Sweden. Chair: Tina Askanius, Malmö University.
Mau Play – Keynote 4: Anne Kaun
Paper sessions
1. Distrust, fear and disinformation
Chair: Anders Hög Hansen, K3, Malmö University
"I trust in no one!" Exploring vaccination hesitancy as everyday politics. Author: Mia-Marie Hammarlin, Lund University, Sweden
Mis/Dis-Information and Webinars about Syria During the Covid-19 Pandemic. Author: Josepha Wessels, K3, Malmö University, Sweden
Pandemocracy And The Politics Of Fear: Beyond The State Of Exception. Authors: Dan Degerman (Department of Philosophy University of Bristol), Matthew Johnson (Department of Politics, Philosophy and Religion, Lancaster University) and Matthew Flinders (Department of Politics and Sir Bernard Crick Centre University of Sheffield)
2. The pandemic's role in reconfiguring power relations
Chair: Maria Brock, K3, Malmö University
A Convivial Turn: Reimagining Democracy and Global Governance in the Post-Pandemic World. Author: Sungjoon Cho, Professor of Law, IIT Chicago-Kent College of Law
The Democratic Paradox of the Israeli COVID-19 Regulations. Author: Sharon Yadin, University of Haifa, Israel
Putin, Parade, Plebiscite, Pandemic: Legitimation strategies and dilemmas in Russia's first year of Covid-19. Authors: Bo Petersson, Malmö University and Matthew Blackburn, Uppsala University
3. Populism and the pandemic
Chair: Anders Hellström, GPS, Malmö University
Populism and COVID19: How Populist Governments (Mis)Handle the Pandemic. Authors: Michael Bayerlein, Kiel Institute for the World Economy; Christian-Albrechts-University of Kiel; Vanessa A. Boesex, Varieties of Democracy (V-Dem) Institute, University of Gothenburg; Scott Gates (Peace Research Institute Oslo (PRIO), University of Oslo; Katrin Kaminy, Kiel Institute for the World Economy; Christian-Albrechts-University of Kiel, Syed Mansoob Murshedk, Centre for Financial and Corporate Integrity (CFCI), Coventry University
Populist communication in pandemic times: How populist presidents in Latin America performed the COVID-19 crisis. Authors: Aline Burni, German Development Institute and Eduardo Ryo Tamaki, Federal University of Minas Gerais
The political uses of the covid pandemic in the rise of Greek authoritarianism. Authors: Filippa Chatzistavrou and Konstantinos Papanikolaou (Department of Political Science and Public Administration, National and Kapodistrian University of Athens)
Researchers, publications and projects
The REDEM platform brings together scholars from different disciplines across the Faculty of Culture and Society and invites colleagues from other faculties interested in using the platform as a vehicle for advancing their research.
Research projects
Our research projects focus on: electoral politics; citizenship and the demos; local decision-making processes; social movements; civic engagement and everyday democracy; violent extremism and anti-democratic movements; journalism and democracy; participatory art; and new publics.
Page modified: 2022-05-31