Cookies
We use cookies on this website. Cookies help us deliver the best experience on our website. Read about cookies.
Collaborative Future-Making
Collaborative
Future-Making
The Collaborative Future-Making research platform explores how we can envision inclusive and sustainable ways of living and thriving together. We do this through prototypes and discussions where people from all sectors of society are involved. Our multidisciplinary group of researchers have respective backgrounds in humanities, design, and social sciences.
Seminars Spring 2022
5 April, 13.15-15.00
Future imaginaries of artificial intelligence for human life – a Nordic perspective.
With: Jason Tucker and Michael Strange, GPS Malmö University
Within the literature studying nascent forms of regulation on AI used in healthcare, a Nordic approach has been identified in which certain commonalities can be identified within the national policy agendas on AI that marks them out as distinct from elsewhere. In the presentation, we draw attention to the importance of future imaginaries within this so-called Nordic perspective on AI healthcare. It is important to identify how such visions are constructed, including the common points of reference and the underlying normative values. AI is not a technical sphere but, particularly where applied to healthcare concerns the future of how decisions are constructed in society.
6 April, 10.15-12.00
Agonistic Navigating: Exploring and (Re)configuring Youth Participation in Design.
With: Kate Ferguson, participatory designer and PhD candidate, RMIT University, Melbourne. Co-hosted with the K3 Seminar Series.
This seminar will discuss agonistic navigating as a politically engaged participatory design practice. In recent years there has been interest in the way PD can open up contested and uncertain issues, and promote engagement without the need for consensus. Agonistic navigating articulates the practice I developed to do this over the course of my PhD research in Sydney, Australia. I set out to investigate problems related to youth participation in the design of public spaces such as parks and squares, and I worked with both young people who are often overlooked in participation processes and the local government who run these processes. This entailed an agonistic infrastructuring approach of respecting different views, aligning interests, and working toward the emergence of new practices over time. I will discuss the reflexive work of orienting and anchoring myself in the fieldwork site and manoeuvring in relations with a council to leverage political will and maintain engagement. I developed a project to design and build a "chill space" for a local park with a group of ten-sixteen-year-olds, and in this I found myself navigating with and between matters of concern such as voice, decision-making, and fun. Here, moments of unsettlement prompted reflection on the way participation had been configured through planning and opened possibilities for re-configuring participation according to what mattered for participants. Along my PhD journey, I transitioned my design practice: rather than a "solution" to the problems of current youth participation processes, I developed a practice of working with the inevitable politics of participatory design in a conscious and reflexive manner.
Kate Ferguson
Kate Ferguson has recently completed a PhD at RMIT University in Melbourne, Australia. With a professional background in architecture, placemaking, public engagement, and community projects, she has a longstanding interest in the way people participate in shaping the built environment.
28 April, 13.15-15.00
Flow Feelers – a study circle on applied ecofeminism for men.
With: Thomas Laurien, senior lecturer in design at HDK-Valand, and co-founder of the Design and Posthumanism Network
What can a damaged and erased brook in Borås teach us about more-than-human kinship? Can it shed light on shadow places – those places that we, again and again, deny and sacrifice? 
Thomas Laurien, senior lecturer in design at HDK-Valand, and co-founder of the Design and Posthumanism Network presents his long-term engagement in combining artistic methods with posthumanist perspectives and commitments. The presentation will focus on "Flowfeelers – a study circle on applied ecofeminism for men", which is part of the umbrella project "Shimmer and Entanglements in the River Basin of Viskan".
9 May, 13.00-15.00
The Issue of Agency in Public Sector Infrastructuring Final PhD seminar.
With: PhD student in Interaction Design Alicia Smedberg K3 MAU and discussant Carl DiSalvo, School of Literature, Media, & Communication, Georgia Institute of Technology. This will be co-hosted with the K3 seminar series.
This PhD project is situated within Participatory Design (PD), and inquiries into the well-established notion of infrastructuring (Ehn, 2008; Karasti, 2014) within the wider field of Interaction Design. As a design research project relying heavily on practice, the inquiry rests upon a four-year process of iterative fieldwork. The fieldwork has been comprised of observations, engagements and interventions into three projects that bridge the public sector and citizens. The primary concern of the dissertation is to investigate the issues of agency within democratic design experiments (Binder et al., 2015) in the public sector. The issues of agency lie at the core of the PD practice, which has evolved around questions of the inherent power relations between designers and users in the design process. This thesis departs from the understanding that PD is first and foremost a political project and it is, therefore, imperative that it is seen within its contemporary social context. It follows that the question of how we do/activate/perform infrastructures is of relevance to PD: these are political interventions that often hold a dual nature of empowering and depowering. Understanding infrastructuring as a political action requires that we understand both its constraints and its possibilities, its constructive as well as its destructive power.
While design has often been seen as an artisan practice, infrastructuring uses much of design's tools, repertoire and affordances in an ongoing care- and maintenance labour. In particular when tied to public sector work, where the common or collective "good" is and should be a factor, the practice of infrastructuring demands negotiations and compromises on behalf of the many. The artisan designer may produce the most beautiful, most prestigious or the most ingenious solution to a problem, but the collective designer's priorities must always be to develop situated designs. To make a distinction between artisan design work and collective care work through design this thesis has borrowed the concepts of work and labour from Hannah Arendt's (1958) writings in political philosophy.
The research has been conducted through programmatic design research where the program acts as a "frame and foundation for carrying out a series of design experiments and interventions" (Brandt, Redström, Eriksen and Binder). A bricolage of methods has been used, reflexively, to drive the program forward, and these have always been informed by an ethics of care. There are three projects that form the basis of this design program: Amiralsstaden (2017-2019); Livskonceptet (2017-2018); The Democracy Ambassadors (2019). These three primary case studies were all situated within public sector work and conducted alongside Malmö Stad. The design programme has generated two programmatic answers. The first programmatic answer, Affective Infrastructuring, highlights the importance of heeding affect when mobilizing social infrastructures and represents a gap in previous literature around infrastructuring. The second programmatic answer suggests a method of approaching effective structures: Collaborative Anecdotalization.
19 May, 14.00-16.00
Stories and Design Recipes to Wonder, Care and Prioritize Relational Homemaking
50% PhD seminar with PhD student in Interaction Design Juliana Restrepo Giraldo K3 MAU/Linneus University and discussant Martín Ávila Professor of Design at Konstfack University of Arts, Crafts and Design. This will be co-hosted with the K3 seminar series.
This is a PhD research project in Design, Sustainability and Life at home, rooted in theories and ethics of Care and inspired by feminist post-humanist discourses. The overall focus is to explore the cosmology of Buen Vivir (Living Well) as a relevant approach for designers researching and working with relationality in the context of sustainable homemaking. 
Buen Vivir means living in harmony with all beings and nature through relationality and reciprocity. It is a philosophy rooted in the cosmovision (worldview) of indigenous communities in the Andean territory in South America, which understands humans as never owners of the earth and its resources, only stewards. Buen Vivir is about living well, not better, by being present, reciprocal and living in harmony with oneself, the community, other beings and nature within the unique living environment. 
In the work, relationality is explored by collecting stories from women in Colombia and Sweden and developing design tools and recipes as mediums to facilitate and nurture dialogue and mutual learning.  Homemaking stories are built on situated knowledge, practices and interactions; on familiar and unfamiliar dilemmas that can support wondering, re-imagining and re-orientating presents and futures. 
Homemaking stories represent interdependences and relations between homes, humans, non-humans and nature. They are essential to explore the situatedness of relational transitions and transformations at home.
The work builds on a programmatic design research approach formed by various design experiments conducted through autoethnography and participation. Those experiments grow into new stories, companion concepts and emergent themes that shape and direct the continuity of the process. In this work, vulnerability is brought forward  (the researchers and others) as a value that enables trust, respect and participation.
23-25 May
Storytelling and Collaborative Future Making – Invitation for a symposium at Malmö University
Symposium
Symposium invite: 23-25 May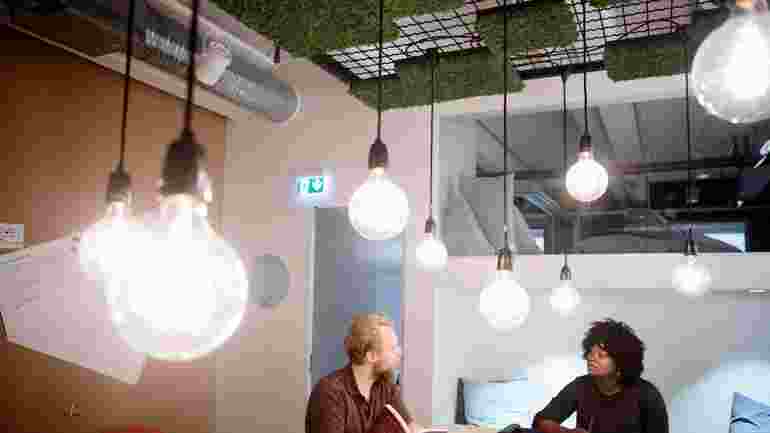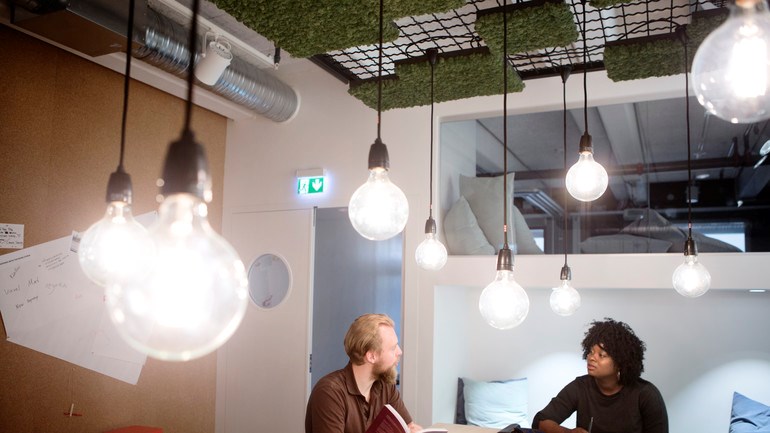 Symposium invite: 23-25 May
The symposium Storytelling and Collaborative Future Making addresses collaborative responses to making a sustainable and common future. Welcome to Storm at Malmö University.
Seminars
Transition Landscapes
Transition Landscapes
Challenging heritage development by engaging with the past in the design space. With: Mela Zuljevic Faculty of Architecture and Arts, University of Hasselt, Belgium
https://play.mau.se/id/0_knlzjp6f?width=608&height=402&playerId=23452644
'Utopia's in the making: the power(s) of participatory post-fossil futuring'
'Utopia's in the making: the power(s) of participatory post-fossil futuring'
https://play.mau.se/id/0_z6f3rl8v?width=608&height=402&playerId=23452644
Seminar: Pushing social sustainable agendas
Seminar: Pushing social sustainable agendas
Platform affiliated researcher Rahel Weldeab Sebhatu took part in a seminar at the Museums as Catalysts for Change event: What role can museums play in the fight for a sustainable future?
https://youtube.com/embed/FtTqCk_aGLg?enablejsapi=1&rel=0&showinfo=1&controls=1
Our research
Our work draws upon multidisciplinary, critical perspectives from the humanities and social sciences. We combine these perspectives with design research methods that are collaborative and constructive, such as making and prototyping.
One of our guiding concepts is critical imagination, which is about challenging basic assumptions, norms and structures for what constitutes socially, culturally, ecologically and economically sustainable futures.
Our research is carried out in collaboration with professionals and policy makers, as well as individuals and non-governmental organisations. Together, we prototype and discuss alternative and collaborative futures.
To summarise, the platform aims to:
envision and prototype inclusive and sustainable futures
develop ways for how these futures can be debated
work closely with actors from all sectors of society
Research methodologies and focus areas
Research methodologies and approaches include art, action research, co-design, discourse theory and analysis, feminism, hermeneutics, historicisation, performativity, phenomenology, postcolonial studies, posthumanism, science and technology studies, and social network analysis.
Focus areas include critical imagination, anthropocene storytelling, heterodox economies, collaborative resilience, and societal engagement.
Forskningsplattformen Collaborative Future-Making tar sin utgångspunkt i mänsklighetens bristande förmåga att föreställa sig hur världen skulle kunna vara annorlunda.
Ett centralt begrepp är "critical imagination" (kritisk föreställningsförmåga). Detta handlar om att ifrågasätta grundläggande antaganden, normer och strukturer. Syftet med detta är att vidga människors perspektiv på vad som skulle kunna utgöra socialt, kulturellt, ekologiskt och ekonomiskt hållbara framtider.
Plattformen utforskar hur vi kan föreställa oss dessa alternativa framtider samt formerna för hur vi gemensamt kan utforma, testa och debattera dem. Den tvärvetenskapliga forskargruppen är verksam inom humaniora, design och samhällsvetenskap.
Researchers, publications and projects
Glossary
Glossary: Collaborative Future-Making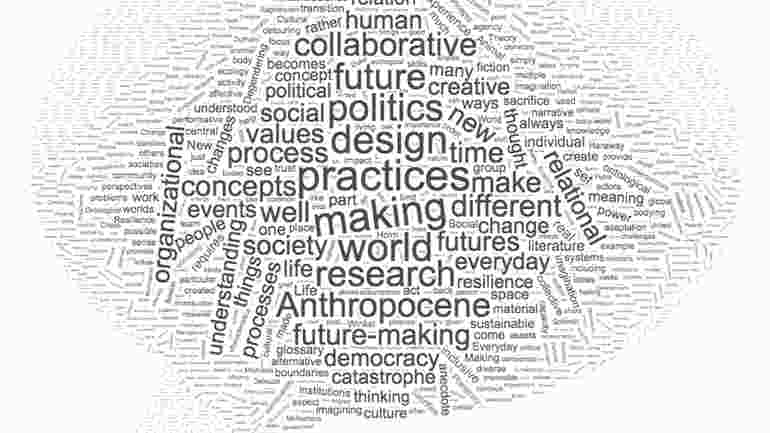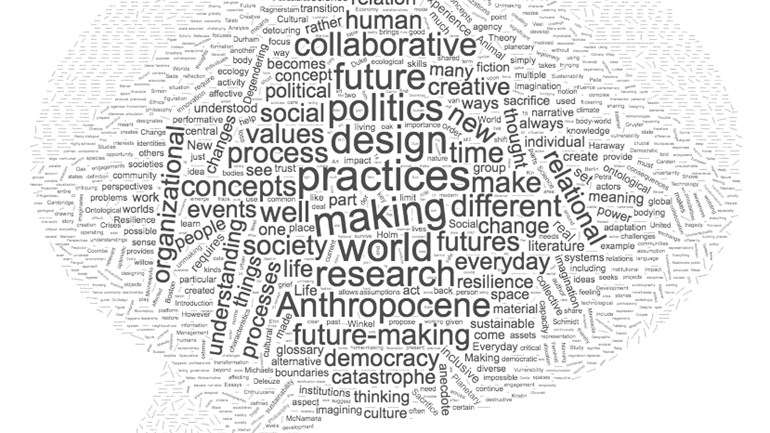 Glossary: Collaborative Future-Making
This glossary was first used within the research group as an exercise to share concepts that we found central to collaborative future-making, then to be used during the Imagining Collaborative Future-Making workshop. This collection of concepts reflects the heterogeneous and diverse character of the research group and a strong belief in that plurality regarding ontologies and epistemologies will be crucial to being able to handle the multiple uncertainties and complex challenges we have to face in the future.
Andrea Botero, Aalto University, Finland
Davina Cooper, King's College London, UK
Max Koch, Lund University, Sweden
Andrew Morrison, The Oslo School of Architecture and Design, Norway
Emily Spiers, Lancaster University, UK
Danielle Wilde, University of Southern Denmark, Denmark
Page modified: 2022-04-21