Cookies
We use cookies on this website. By continuing to use this site you accept the use of cookies.
Collaborative Future-Making
Collaborative
Future-Making
The Collaborative Future-Making research platform explores how we can envision inclusive and sustainable ways of living and thriving together. We do this through prototypes and discussions where people from all sectors of society are involved. Our multidisciplinary group of researchers have respective backgrounds in humanities, design, and social sciences.
Seminars fall 2020
This fall, researchers from the Collaborative Future-Making will host seminars on a wide range of topics. Follow the links below to learn more.
SI Summit
Critical Imagination and Transformative Change
Recording from Social Innovation Summit 2020
Numerous research reports argue that we need a profound transformation of society if we want to have a healthy planet in the future with good living conditions for all. To be able to understand what such transformations could imply, many academics, activists, civil servants, policy makers, and global movements have increasingly paid attention to how we can re-imagine taken for granted foundations in society, and how we can explore radically different scenarios of our future life.
This seminar, held at Social Innovation Summit 2020, set out to discuss what the opportunities and challenges are to engage in processes of radical re-imagination and transformative change. Especially since many of us simultaneously have to spend much of our time struggling and coping with complex everyday problems and solving urgent issues.
Participants: Dougald Hine, co-founder of the Dark Mountain Project and the School of Everything, runs the learning community A school called HOME; Eva Moe, head of Reglab, a forum for knowledge and capacity building focusing on regional development in Sweden; Maria Larsson, public officer at Region Västra Götaland; Ann Light and Per-Anders Hillgren, Malmö University.
Forskningsplattformen Collaborative Future-Making tar sin utgångspunkt i mänsklighetens bristande förmåga att föreställa sig hur världen skulle kunna vara annorlunda.
Ett centralt begrepp är "critical imagination" (kritisk föreställningsförmåga). Detta handlar om att ifrågasätta grundläggande antaganden, normer och strukturer. Syftet med detta är att vidga människors perspektiv på vad som skulle kunna utgöra socialt, kulturellt, ekologiskt och ekonomiskt hållbara framtider.
Plattformen utforskar hur vi kan föreställa oss dessa alternativa framtider samt formerna för hur vi gemensamt kan utforma, testa och debattera dem. Den tvärvetenskapliga forskargruppen är verksam inom humaniora, design och samhällsvetenskap.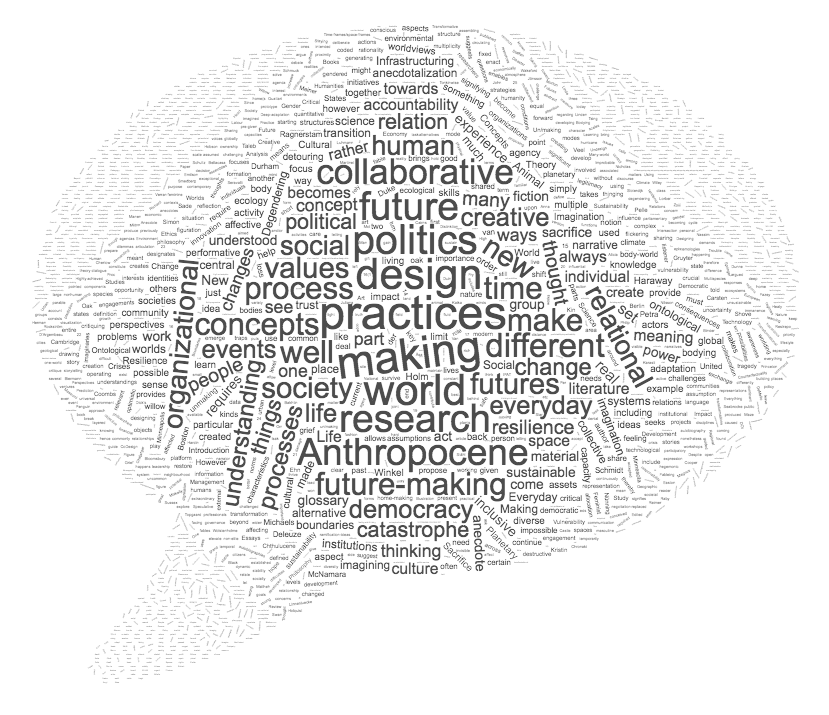 Glossary: Collaborative Future-Making
This glossary was first used within the research group as an exercise to share concepts that we found central to collaborative future-making, then to be used during the Imagining Collaborative Future-Making workshop. This collection of concepts reflects the heterogeneous and diverse character of the research group and a strong belief in that plurality regarding ontologies and epistemologies will be crucial to be able to handle the multiple uncertainties and complex challenges we have to face in the future.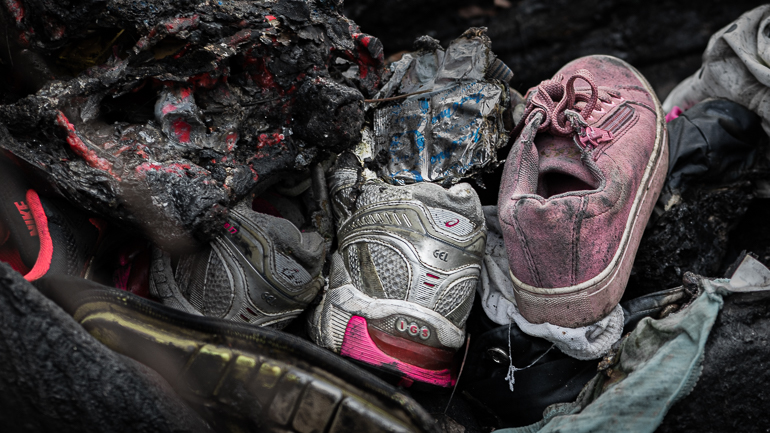 New project: Grief and hope in transition
Debates on the transition to a fossil-free society tend to focus on how new technologies will replace fossil energy – without changing the ways of living that fossil energy has enabled. This project engages diverse publics to imagine and perform fossil-free futures in a way that encompasses loss as well as hope.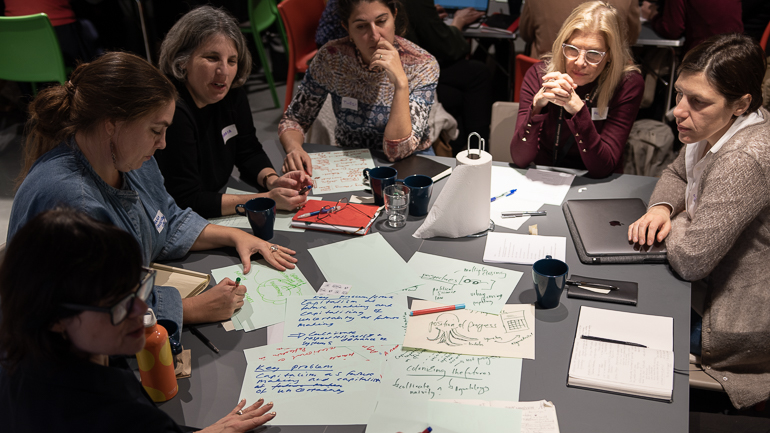 Workshop: Imagining Collaborative Future-Making
In November 2019, the platform hosted an international workshop where scholars from the humanities, design and social sciences explored how to envision inclusive and sustainable ways of living and thriving together.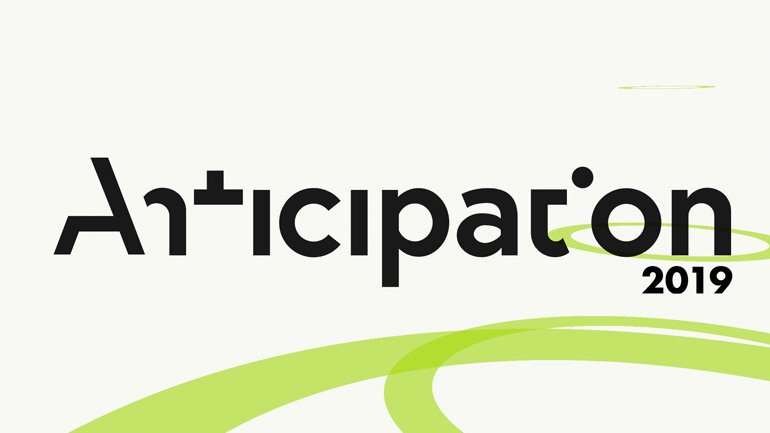 Anticipation conference
In October 2019, researchers from the platform hosted a curated session at the Anticipation conference where scholars, policymakers and practitioners discussed issues ranging from modelling, temporality and the present to the design, ethics and power of the future.
Our research
Our work draws upon multidisciplinary, critical perspectives from the humanities and social sciences. We combine these perspectives with design research methods that are collaborative and constructive, such as making and prototyping.
One of our guiding concepts is critical imagination, which is about challenging basic assumptions, norms and structures for what constitutes socially, culturally, ecologically and economically sustainable futures.
Our research is carried out in collaboration with professionals and policy makers, as well as individuals and non-governmental organisations. Together, we prototype and discuss alternative and collaborative futures.
To summarise, the platform aims to:
envision and prototype inclusive and sustainable futures
develop ways for how these futures can be debated
work closely with actors from all sectors of society
Research methodologies and focus areas
Research methodologies and approaches include art, action research, co-design, discourse theory and analysis, feminism, hermeneutics, historicisation, performativity, phenomenology, postcolonial studies, posthumanism, science and technology studies, and social network analysis.
Focus areas include critical imagination, anthropocene storytelling, heterodox economies, collaborative resilience, and societal engagement.
Researchers, publications and projects
Recorded seminars
These are a few of the seminars held fall 2020. More will be published shortly.
Long – where the rivers meet: learning from the Penan community
How can we embrace the plurality of ontologies and epistemological practices that can be found across the globe? How can we respectfully learn together across diverse knowledge systems? This is the first of several seminars on the theme "Co-becoming in the Pluriverse"
Respectful Design for incorporating indigenous and alternative knowledge
With Lizette Reitsma. Part of K3's research seminar series.
Collaborative Engagement in Academia – The Ethics of Activist Research in Times of Repressive Migration Politics
A Presentation of the Cross-border Solidarity Initiative the Asylum Commission. The point of departure for this presentation are opportunities and challenges experienced in the work of the Swedish Asylum Commission – Commission for review of legislation, law enforcement and legal security for people who applied for asylum in Sweden during the period 2015–17.