Cookies
We use cookies on this website. By continuing to use this site you accept the use of cookies.
Collaborative Future-Making
Collaborative Future-Making
Collaborative
Future-Making
The Collaborative Future-Making research platform explores how we can envision inclusive and sustainable ways of living and thriving together. We do this through prototypes and discussions where people from all sectors of society are involved. Our multidisciplinary group of researchers have respective backgrounds in humanities, design, and social sciences.
Samtalsserie: Att föreställa sig framtider
I samarbete med Malmö konstmuseum arrangerade Collaborative Future-Making under våren 2021 en rad samtal på temat Att föreställa sig framtider.
Tänka fritt är stort, tänka nytt är större (del 1)
Hur gör man egentligen för att föreställa sig framtiden annorlunda? Hur hänger det samman med att titta på konst? Forskarna Per-Anders Hillgren och Magnus Nilsson förklarar vad de menar med kritisk föreställningsförmåga, ett begrepp de använder när de undersöker hur vi gör för att förstå världen omkring oss.
Om sorg och hopp i omställning (del 2)
Forskarna Kristina Lindström och Per-Anders Hillgren berättar om sitt projekt Sorg och hopp i omställning – att tillsammans med andra formulera en bild av en fossilfri framtid som är hoppfull men som också tar i beaktande de känslor av förlust som en förändrad livsstil kommer att kunna leda till.
Konstens möjligheter – konsten att förstå (del 3)
Forskarna Petra Ragnerstam och Asko Kauppinen hjälper oss att upptäcka fler relationer mellan vår tids stora frågor och den samtida konstens många uttryck.
This spring, researchers from the Collaborative Future-Making research platform host several seminars on a wide range of topics: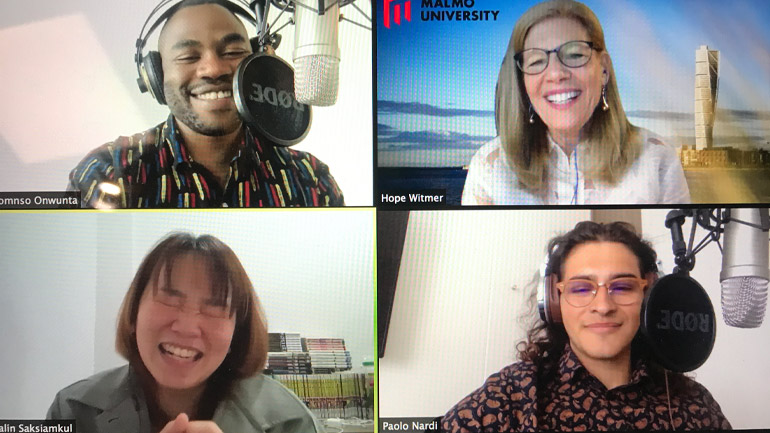 From passion for sustainability – to action for sustainability
CFM's Hope Witmer interviews three former students who have started a company that works with organizations to assess and co-envision how businesses can be sustainability pioneers.
Critical Imagination and Transformative Change
This seminar, held at Social Innovation Summit 2020, set out to discuss what the opportunities and challenges are to engage in processes of radical re-imagination and transformative change.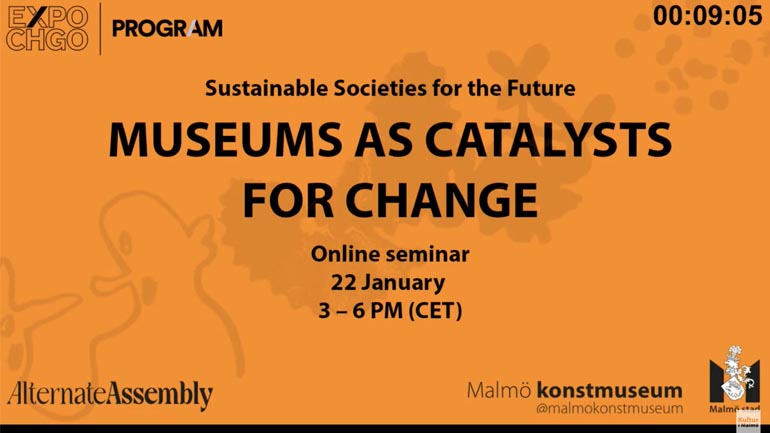 Seminar: Pushing social sustainable agendas
Platform affiliated researcher Rahel Weldeab Sebhatu took part in a seminar at the Museums as Catalysts for Change event: What role can museums play in the fight for a sustainable future?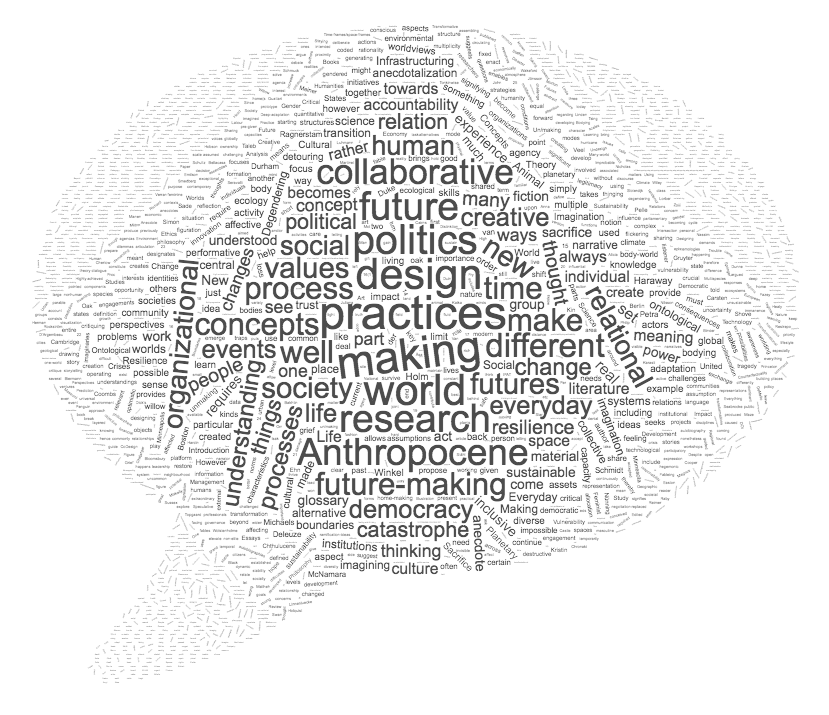 Glossary: Collaborative Future-Making
This glossary was first used within the research group as an exercise to share concepts that we found central to collaborative future-making, then to be used during the Imagining Collaborative Future-Making workshop. This collection of concepts reflects the heterogeneous and diverse character of the research group and a strong belief in that plurality regarding ontologies and epistemologies will be crucial to be able to handle the multiple uncertainties and complex challenges we have to face in the future.
Our research
Our work draws upon multidisciplinary, critical perspectives from the humanities and social sciences. We combine these perspectives with design research methods that are collaborative and constructive, such as making and prototyping.
One of our guiding concepts is critical imagination, which is about challenging basic assumptions, norms and structures for what constitutes socially, culturally, ecologically and economically sustainable futures.
Our research is carried out in collaboration with professionals and policy makers, as well as individuals and non-governmental organisations. Together, we prototype and discuss alternative and collaborative futures.
To summarise, the platform aims to:
envision and prototype inclusive and sustainable futures
develop ways for how these futures can be debated
work closely with actors from all sectors of society
Research methodologies and focus areas
Research methodologies and approaches include art, action research, co-design, discourse theory and analysis, feminism, hermeneutics, historicisation, performativity, phenomenology, postcolonial studies, posthumanism, science and technology studies, and social network analysis.
Focus areas include critical imagination, anthropocene storytelling, heterodox economies, collaborative resilience, and societal engagement.
Forskningsplattformen Collaborative Future-Making tar sin utgångspunkt i mänsklighetens bristande förmåga att föreställa sig hur världen skulle kunna vara annorlunda.
Ett centralt begrepp är "critical imagination" (kritisk föreställningsförmåga). Detta handlar om att ifrågasätta grundläggande antaganden, normer och strukturer. Syftet med detta är att vidga människors perspektiv på vad som skulle kunna utgöra socialt, kulturellt, ekologiskt och ekonomiskt hållbara framtider.
Plattformen utforskar hur vi kan föreställa oss dessa alternativa framtider samt formerna för hur vi gemensamt kan utforma, testa och debattera dem. Den tvärvetenskapliga forskargruppen är verksam inom humaniora, design och samhällsvetenskap.
Researchers, publications and projects
Andrea Botero, Aalto University, Finland
Davina Cooper, King's College London, UK
Max Koch, Lund University, Sweden
Andrew Morrison, The Oslo School of Architecture and Design, Norway
Emily Spiers, Lancaster University, UK
Danielle Wilde, University of Southern Denmark, Denmark